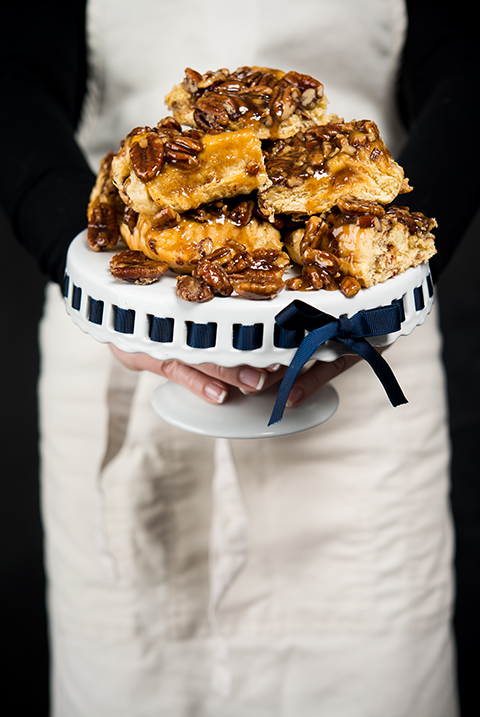 Pecan Sticky Buns Recipe
It's been a long week, your eyes open slowly and the warm sunshine kisses your cheek. You realize it's Saturday; a day for sleeping in, a leisurely cup of coffee in the sunshine filled dining room and the aroma of freshly baked pecan sticky buns fill the house. The warm aroma of cinnamon and roasted pecans slowly wafts down the hallway and up the stairs to greet the rest of the family. Gradually the teens begrudgingly make their way down to the breakfast table with hopes of a strong cup of coffee and a slice of whatever woke them from their 14 hours of beauty sleep.
Pecan sticky buns can awake even the laziest of teenagers with its sweet aroma and tantalizing warm cinnamon and roasted pecan aroma but the long list of ingredients and even longer preparation can seem like a daunting task.

Easy Sticky Buns
Breaking down the pecan sticky buns recipe into manageable pieces can make a seemingly long process much less time consuming. Creating the base dough in a stand mixer fitted with a dough hook will allow the cook to walk away for a few moments and accomplish other tasks. Simply follow the directions below and allow the stand mixer to complete the kneading process. Remove the dough, butter the bowl and replace the dough to rise for the stated amount of time. Complete the glaze and the assembly of the dough. The prepared rolls can keep overnight in the fridge or can be frozen for future use. Simply bring the rolls to room temperature before baking.
Cinnamon and roasted pecans are a key ingredient in pecan sticky buns. Pecans are pretty standard throughout the industry but cinnamon is not. Did you know that there are multiple varieties of cinnamon and each one has a unique flavor profile and intensity? Ceylon cinnamon is the real stuff. Sourced from Sri Lanka, Ceylon cinnamon is scientifically the only pure cinnamon in the market. Ceylon is reminiscent of the classic cinnamon you have grown up with. Vietnamese cinnamon is bold and pronounced and smells exactly like a red-hot cinnamon candy. Korintje cinnamon is sweet and subtle; perfect for adding a sweet note to just about anything!
Go and grab those sleep deprived husbands, wives or teenagers and create a production assembly line of sticky bun dough, you'll be finished in no time and everyone will be happy to wake up to the beautiful aroma of cinnamon and pecans next Saturday!
Pecan Sticky Buns
Yields (2) 10 inch round pans
Sticky Buns Ingredients
1 cup

warm water (105°F to 115°F)

4 teaspoons

dry yeast

2/3 cup

sugar

1/2 cup

butter, room temperature

1/2 cup

dry nonfat milk

1 1/4 teaspoons

salt

2

large eggs

4 1/4 cups

all purpose flour

1 1/4 cups

(packed) dark brown sugar

3/4 cup

butter, room temperature

1/4 cup

honey powder

1/4 cup

dark corn syrup

1/4 cup

water

1 teaspoon

 vanilla extract

2 cups

pecan halves

4 teaspoons

sugar

4 teaspoons

ground Vietnamese cinnamon
How to Make Sticky Buns
Dough
Mix 1/4 cup warm water, yeast, and pinch of sugar in small bowl. Let stand until foamy, about 8 minutes. In a stand mixer with a dough attachment, add the sugar, butter, dry milk, and salt beat until light and fluffy. Add eggs 1 at a time, beating after each addition. Add the remaining 3/4 cup warm water and yeast mixture, then 3 cups flour, 1 cup at a time. Using rubber spatula, mix in 1 cup flour, scraping down sides of bowl frequently (dough will be soft and sticky). Sprinkle 1/4 cup flour onto work surface and knead until smooth and elastic, adding more flour if sticky, about 8 minutes.
Butter another large bowl. Add dough; turn to coat. Cover bowl with plastic wrap and let dough rise in warm area until doubled, about 2 1/2 hours.
Sticky Bun Glaze
Butter two 10-inch round cake pans with 2-inch high sides. Beat brown sugar, 1/2 cup butter, honey, corn syrup, and 1/4 cup water in medium bowl to blend. Spread half of glaze in bottom of each prepared pan. Sprinkle 1 cup pecans over each.
Assembly
Punch down dough. Divide dough in half. Roll each dough piece out on floured work surface to 12x9-inch rectangle. Brush any excess flour off dough. Spread remaining butter over dough rectangles, dividing equally. Mix 4 teaspoons sugar and cinnamon in small bowl. Sprinkle cinnamon sugar over rectangles. Starting at 1 long side, tightly roll up each rectangle into log. Cut each log into 12 rounds. Place 12 rounds, cut side down, in each prepared pan, spacing evenly. Cover with plastic wrap. (Can be made 1 day ahead; refrigerate) Let buns rise in warm area until almost doubled, about 1 hour (or 1 hour 25 minutes if refrigerated).
Preheat oven to 375°F. Bake buns until deep golden brown, about 30 minutes. Run small knife around pan sides to loosen sticky buns. Turn hot buns out onto platter. Cool about 30 minutes and serve.
Share your thoughts, leave a comment