Posted in Baking Recipes, Cookies, Cheesecake by Sarah
Ginger Cream Cheese Cookie Sandwiches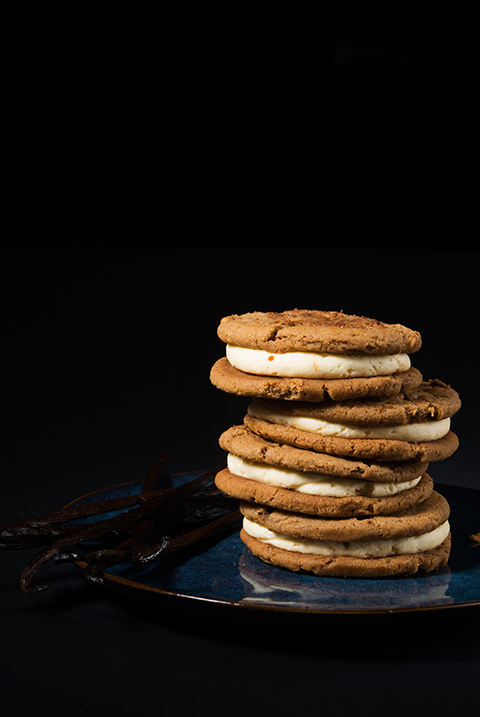 The smell of ginger cookies baking is in my opinion one of the most beautiful aromas. The combination of ginger, cloves, and cinnamon are intoxicating and permeates the entire house. One of my first big "corporate" positions as an executive pastry chef was in a restaurant where I had the distinct pleasure of helping to build from the ground up. Endless hours were spent purchasing equipment, assisting in the design of the kitchen, and creating recipes. Our team was incredible and the desserts that we produced were some of the best in the area. Although I loved pretty much all of the products, my favorite is, and will always be, our ginger cookies. Soft and chewy with beautiful hints of ginger, cinnamon, and cloves. Our ginger cookies are a delightful treat!
While these cookies are perfect on their own, the addition of tangy cream cheese frosting sends them over the top. Molasses and warm spices simply cannot come together without the addition of vanilla extract, specifically extract made with the rich, sweet vanilla beans from Madagascar. The quality of the vanilla beans used in this extract are known as "splits", which are achieved when farmers leave the pods to mature on the vines a few weeks after conventional harvest time. This gives the finished product a full body impact and a remarkable after taste.
We offer this premium extract in either single-fold or double-fold solutions. Our 2-Fold extracts are made with twice the amount of beans used for the same volume of single-fold extract. This results in a more concentrated (double-strength) extract that only requires you to use half the amount normally used in recipes.
Share your thoughts, leave a comment!
← Previous Post
Next Post →