Posted in Baking Recipes, Parfaits & Trifles, Cheesecake, Mini Desserts by Sarah
Mint Chocolate Cookie Parfaits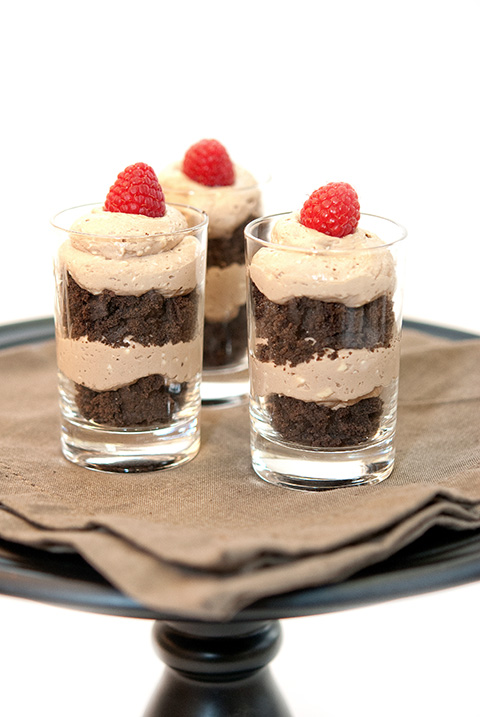 If you love to entertain and you are looking for a simple, delicious and beautiful dessert then look no further. Mint chocolate cookie parfaits combines the flavors of a hot cup of cocoa, the smooth and creamy filling of a cheesecake and the soft chewy texture of a cookie all in one dessert.
A perfect one handed treat for the buffet table at your next cocktail party. The recipe begins with a simple chocolate cookie that has a texture resembling a brownie on the edge of the pan. Crisp and chewy on the outer edges but soft and gooey in the middle. The second component to the parfait is a rich and creamy cheesecake mousse. The best part of this cheesecake recipe is that no baking is required! The final component is the mint hot cocoa; a familiar flavor during these cold winter months. The combination of these flavors are hard to beat but our favorite component has to be the addition of Madagascar vanilla beans.
Our Madagascar vanilla beans are some of the very best the market has to offer. Plump, pliable and bursting with fresh vanilla bean caviar. Madagascar vanilla beans are the most familiar and common beans in the marketplace today, but this doesn't mean that they are ordinary! Madagascar vanilla beans add a familiar vanilla bean flavor to many desserts and is most often used in almost every dessert commercially and privately created. You can't go wrong with our beans! They will always surpass the quality found in most grocery stores and won't break the bank.

Share your thoughts, leave a comment!
← Previous Post
Next Post →