Posted in Baking Recipes, Parfaits & Trifles, Mini Desserts by Sarah
Key Lime Pie Mini Parfaits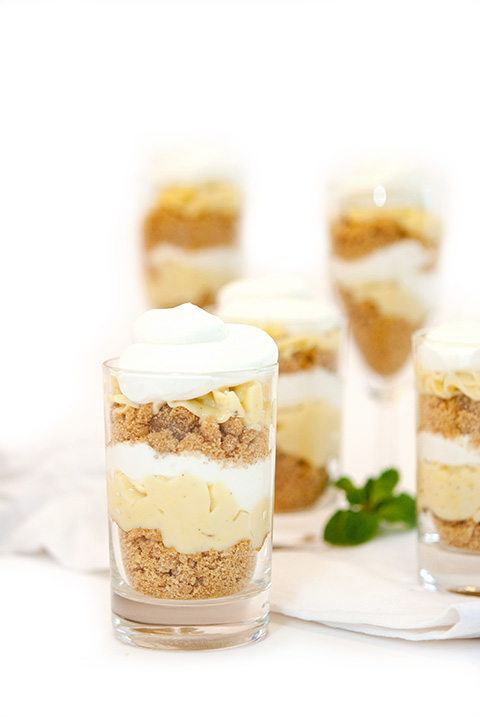 There is nothing quite as delicious as a key lime pie! The tart key lime filling mingles well with the sweet and buttery graham cracker crust, but let's not forget the whipped cream! Mounds of freshly whipped cream is an essential component to the perfect key lime pie. But let's be honest, unless you plan on eating the pie directly from the pie plate (which is perfectly acceptable), or you are hosting a beautiful plated dinner, hauling around a plate of pie at a party that is constantly slipping to the edge is a bit cumbersome. I have a solution! Key lime pie mini parfaits!
Portable and easy to eat in just a few bites, this parfait has all the components of a traditional key lime pie in a very easy to serve size.
Key lime pie has a very long and rich history in the southern states, primarily in Key West, Florida. The story goes that Aunt Sally (a cook) was asked to create a pie for a wealthy ship salvage employer. William Curry (Florida's first self-made millionaire) asked the cook to create a pie using an overabundance of key limes in storage. The result was the traditional pie now known as key lime pie. Although known as the birthplace of key lime pie, the key lime is not indigenous to the region. The first key lime tree has roots in Malaysia, and were most likely brought over to Florida in the 1500's by the Spanish.
Traditional key lime pie consists of very little ingredients. Limes, egg yolks and sweetened condensed milk are the three main ingredients, but we are a vanilla company, and no dessert can escape the addition of our beautiful products.
Tahitian vanilla beans have a sweet floral flavor that perfectly complement the boldness of the key lime juice. There are two types of Tahitian vanilla beans; those from Tahiti and those from Papua New Guinea. Beanilla sells the real deal. Our vanilla from Tahiti is incredible!
Share your thoughts, leave a comment!
← Previous Post
Next Post →