Posted in Baking Recipes, Parfaits & Trifles, Cheesecake, Mini Desserts by Sarah
No Bake Patriotic Cheesecake Parfaits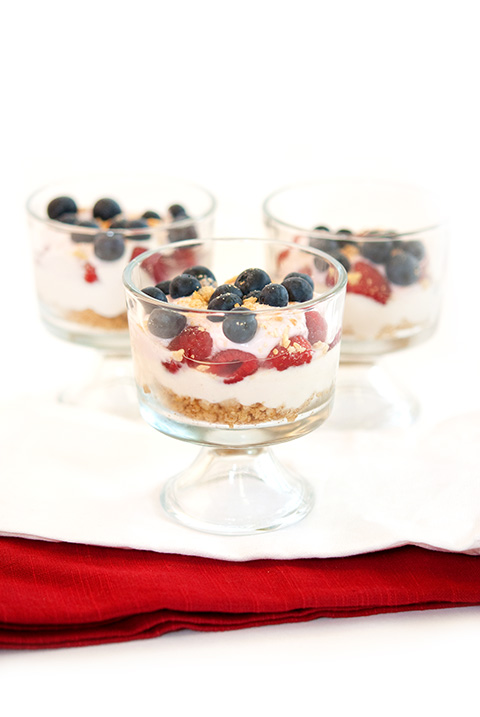 Fireworks, picnics, cottages, bon fires...... If you live in the United States, the most beloved of all summer holidays is the Fourth of July. A time when our country celebrates its independence from Great Britain. A time for family, friends and celebration with food and drinks.
The American flag sways proudly in the wind, it's red white and blue symbolizing the freedoms we have in this great country of ours. Many of our barbecues will incorporate the colors of our sacred flag. No bake berry cheesecake parfaits are a simple, creamy and very patriotic way to add color to your Fourth of July barbecue. No bake means no oven to heat up, and this delicious dessert can even be made a few days ahead of time and be stored in the fridge!
No bake berry cheesecake parfaits are the perfect way for small children to help out in the kitchen, too! Instead of using a food processor to crush the graham crackers, place the crackers into a large Ziploc bag, close securely and roll over the bag with a wooden rolling pin. You can even let the kids layer the desserts into parfait glasses or clear plastic cups. It's just that easy!
If you have visited our website before, you know that we can't make any dessert without the addition of vanilla or a vanilla based product.... So, the addition of Beanilla vanilla bean paste is essential to creating the perfect no bake berry cheesecake parfait.
Vanilla Bean Paste is smooth, rich and creamy. Vanilla paste awards the simplicity of using vanilla extract while allowing the convenience, flavor and appearance of using whole vanilla beans. Our 3-Fold Madagascar Vanilla Bean Paste is made using three times as many vanilla beans as our single fold extracts. We are all familiar with vanilla extract, the most popular flavor in the world. Now we offer the same full-bodied vanilla flavor with a unique twist: the addition of the distinctive vanilla seeds in a rich concentrated paste. Use vanilla bean paste's thicker viscosity to flavor cakes, puddings, cookies, custards, icing, frosting's, whipped cream, ice cream or anywhere the flavor and appearance of vanilla bean is desired. Using vanilla bean paste saves the effort of scraping the seeds from the whole vanilla bean.
We wish you a weekend filled with family, friends, great food and the celebration of our freedom! Happy Fourth of July from all of us at Beanilla!
Share your thoughts, leave a comment!
← Previous Post
Next Post →