Posted in Baking Recipes, Cheesecake, Mini Desserts by Sarah
Tiramisu No-Bake Cheesecake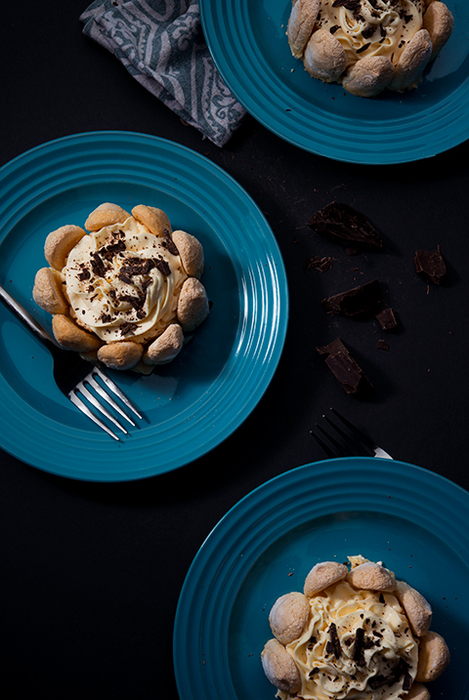 Cheesecake is a simple dessert that provides an incredibly rich and decadent flavor and creamy texture.
We all have foods that remind of us home, family, and a specific time or place in our lives. Cheesecake brings me home, home to Christmas and special occasions. My mom was a spectacular cook; meals were always a family event. Every member of the family was expected to be at the table, proper tableware and napkins were always set. At a very young age I was taught the proper placement of silverware: what fork belonged to what course and how to entertain in a very gracious and effortless manner. Dessert was always served. There was never a lack of cookies, pies and new creations in our fridge.
The fondest of memories is my mom's cheesecake. Rich and dense (but creamy), with a traditional butter gladdened graham cracker crust and topped with cherry pie filling. This dessert was a staple at all of our holiday and special events. As fond as I am of her recipe, it is a 2-day event. Creating, baking, water bath, overnight chilling and then finally eating… Quite the production!
No bake cheesecake gives you the creamy texture and tang of the dessert without the extensive preparation and time associated with a traditional cheesecake. Tiramisu cheesecake is a combination of two rich and creamy desserts, cheesecake and tiramisu. I am a self-professed coffee addict, in particular with espresso. There is nothing more satisfying than a perfectly prepared espresso, cappuccino, or latte. Tiramisu cheesecake brings the bold flavor of espresso to a dessert that is light but rich. The addition of our Tahitian vanilla extract highlights the inherently fruity nature of the espresso bean and brings out the rich brooding flavor of the dark chocolate that tops the dessert.
Share your thoughts, leave a comment!
← Previous Post
Next Post →