Mini Lemon Cheesecake with Vanilla Candied Lemons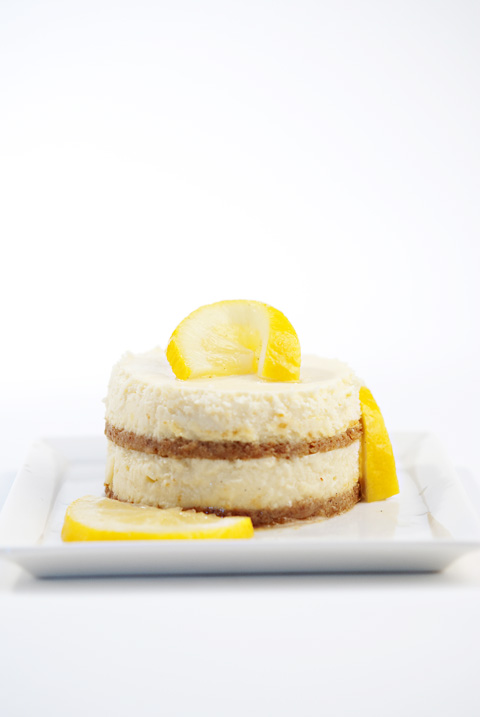 Do you remember the vanilla candied lemon post, and how beautiful those bright yellow lemons looked in the jar? Did you look at those vanilla candied lemons and think, "I should make those!"? Maybe you made them, and now they stare at you every time you open the fridge door. You wonder, "What in the world am I going to do with these?" I have just the solution: lucious mini-lemon cheesecakes with vanilla candied lemon slices.
Lemon imparts a bright and light citrus flavor to a classically heavy dessert. The addition of candied lemons let the recipients know you care enough to go above and beyond the traditional cheesecake.
Serve them at your next family dinner or whip up a batch the next time your significant other invites their boss to dinner. These mini lemon cheesecake tarts are guaranteed to impress!
Mini Lemon Cheesecake with Vanilla Candied Lemons
Yields 4 mini cheesecakes
Ingredients:
9 oz cream cheese, at room temperature
2 oz sour cream
6 oz sugar
5 oz. eggs, at room temperature
1 tsp lemon zest
2/3 oz lemon juice
1/2 oz egg yolks, at room temperature
Directions:
Combine cream cheese, sour cream, and sugar in a KitchenAid bowl with paddle attachment
Beat on medium speed until smooth, 3 minutes
Stop mixer and scrape paddle attachment and bowl
Beat on medium speed for 2 minutes
Add eggs and yolks one at a time on medium speed, half way through additions stop the mixer and scrape the paddle and bowl
After the eggs and yolks are added combine the zest, juice, and vanilla bean scrapings
Beat on medium speed until batter is smooth
Graham Cracker Crust
Ingredients:
Directions:
Mix together graham cracker crumbs, melted butter, sugar and vanilla bean paste. The mixture should feel like lightly wet sand.
Form crust into 9x9 pan and bake for 5 minutes at 350 degrees. Let cool to room temperature, pour cheesecake batter over crust and bake for 30-40 minutes at 325 degrees. Let cool and place in fridge over night to set up.
Using a ring mold, cut into rounds and garnish with candied lemon slices.
*I used two rounds stacked on top of one another to gain height
Share your thoughts, leave a comment