Red Velvet Valentine Cupcakes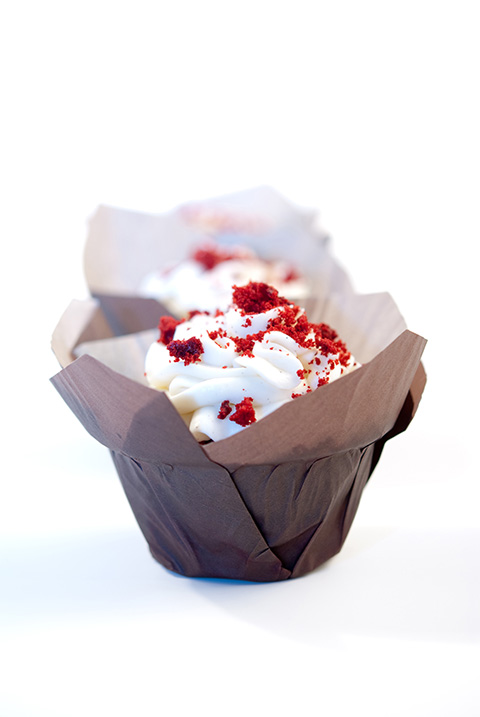 Roses are red, violets are blue, Valentine's Day is quickly approaching, I'm ready--are you? Dinner reservations, store bought candy and jewelry are certainly appreciated and show us that you care, but nothing is sweeter than homemade cupcakes!
Imagine a beautiful candlelit table complete with a dinner expertly made by your own two hands. And for dessert, beautiful homemade red velvet Valentine cupcakes! Beanilla can help you create this delicious dessert for the loved ones in your life. We carry an extensive line of vanilla beans and extracts that will take your V-day cupcakes to a whole new level. Exotic Tahitian vanilla beans are a sweet and creamy addition to cream cheese buttercream. While our Ugandan vanilla beans bring out the cocoa essence in the cake. Your loved ones will be licking the plate clean!
Red Velvet Valentine Cupcakes
Yields 20
Ingredients
1 1/4 c. cake flour
1 1/4 c. All-purpose flour
4 tablespoons cocoa powder
1 teaspoon salt
1/2 c. sugar
1 1/2 cups canola oil
2 large eggs, room temperature
1 1/2 oz. red food color
1

Ugandan Vanilla bean

scraped
1 cup buttermilk
1 1/2 tsp. baking soda
2 tsp. distilled white vinegar
Directions:
Preheat oven to 350 degrees. Line standard muffin tins with paper liners. Whisk together cake flour, all-purpose flour, cocoa, and salt. With a stand mixer on medium-high speed, beat together sugar and oil until combined. Add eggs, one at a time scraping down sides of bowl as needed. Add in food coloring and vanilla bean scrapings.
Reduce mixture speed to low. Add the flour mixture in three additions alternating with the buttermilk baking soda and vinegar mixture. Mix until combined. Scoop batter into cupcake liners with an ice cream scoop to ensure even amounts in liner. Bake at 350 for 12-15 minutes until cake springs back when touched in the center. Cool to room temperature.
Cream Cheese Frosting
Ingredients:
Directions:
With whisk attachment beat butter, cream cheese, vanilla bean scraping, and almond extract until light and fluffy. Slowly add powdered sugar and milk until combined. Beat on high speed until frosting is light and fluffy.
Place in piping bag or plastic lunch baggie with the end cup off and pipe the frosting onto the cupcake.
To Garnish:
Crumble two cupcakes and sprinkle on top of frosting.
Share your thoughts, leave a comment