Apple-Vanilla Coffee Cake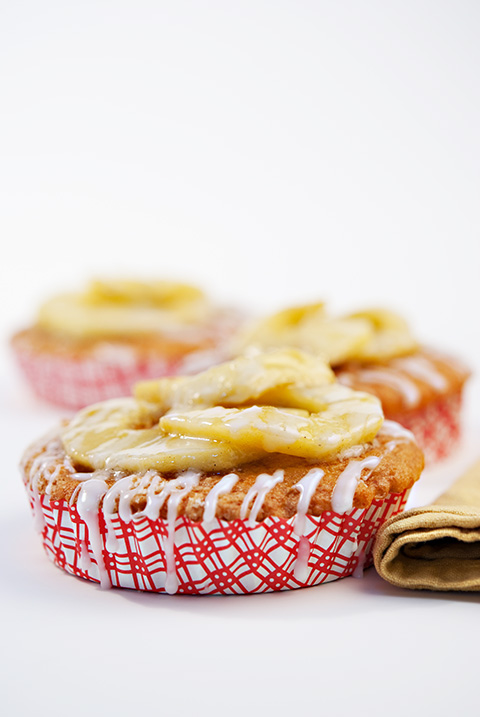 Grab a cup of coffee (or tea), sit down with a good old fashion newspaper, and enjoy the simple pleasure that is coffee cake. In this very hectic and digitalized world it is nice, on occasion, to put it all aside and reflect on the simple pleasures. Now don't get me wrong, I couldn't live without my iPhone, computer or camera, and nor would I want to, but every once in a while the hectic, fast-paced digital world that is our lives needs a rest -- a time to breathe and think about how quickly time passes, and how we sometimes forget to appreciate the small things that can bring so much pleasure.
Like.... coffee and apple vanilla coffee cake. There is no better aroma to fill your home with than cake, cinnamon and baked apples; the kind of smell you imagine would come out of your grandmother's house; the kind of smell that makes you want to fall into a comfy armchair with your cup of coffee and waste part of your morning watching classic movies for no particular reason.
The reality is that we all have jobs, deadlines, kids, significant others and many, many other things we cram into our busy days. Rarely do we have time to sit, bake or even watch old movies. I challenge you to take 30 minutes for yourself, grab a cup of coffee (or tea) and enjoy a slice of apple-vanilla coffee cake. You'll thank me for it later.....
Apple-Vanilla Coffee Cake
Yields 8 mini cakes
Adapted from Food Network
Ingredients:
Cake:
1 stick plus 2 teaspoons butter (softened)
1 1/2 cups packed light brown sugar
2 large eggs
2 cups all purpose flour
1 teaspoon baking soda
1 teaspoon ground cinnamon
1/2 teaspoon salt
1 cup sour cream
1 teaspoon Tahitian vanilla bean paste
2 cups peeled, cored and chopped apples
Directions:
Preheat the oven to 350 degrees F. Lightly grease a 13 by 9-inch glass baking dish with 2 teaspoons of the butter, or use tart paper baking cups.
In a large bowl, cream together the remaining stick of butter and sugar until light and fluffy. Add the eggs 1 at a time, beating after the addition of each. In a separate bowl or on a piece of parchment, sift together the flour, baking soda, cinnamon, and salt. Add to the wet ingredients, alternating with the sour cream and vanilla. Fold in the apples. Pour into the prepared baking dish, spreading out to the edges. Bake for 20-25 minutes until golden brown
Sautéed Apples (for the top)
1 apple cut into rings
1 tbsp. butter
2 tsp. brown sugar
Directions:
Slice cored apple in to rings and sauté in butter brown sugar mixture, 4-7 minutes on medium heat until tender. Remove from heat and cool to room temperature. Place on top of cooled coffee cake
Ginger Glaze
Ingredients:
2 c. powdered sugar
1 tsp. Ginger Extract
2-3 tbsp. milk
Directions:
Whisk together all three ingredients in a small bowl until thick and well combined. Drizzle over coffee cake
Share your thoughts, leave a comment