Blueberry Cheesecake Cupcakes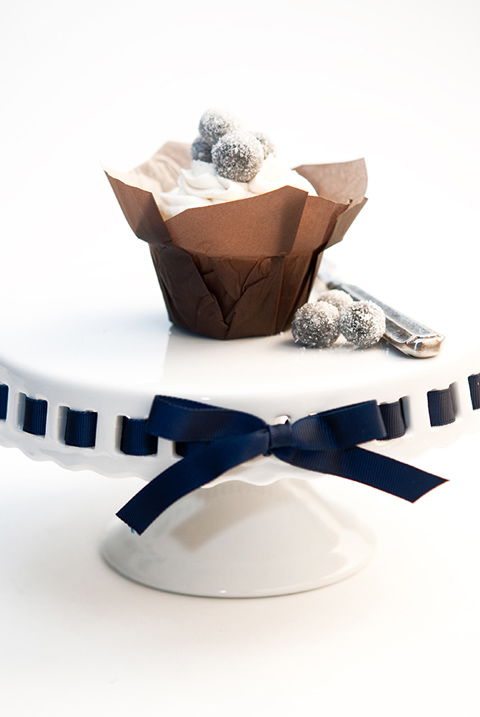 My child's school counselor called me a few weeks back, and my first instinct was, "Oh, no! What did she do?" The counselor laughed and reassured me that my daughter is a model student and they were actually calling for me. "Oh, no. What did I do?" Luckily, it was a friendly call to request my presence at the middle school career day. After a brief conversation of what would be required of me, I politely accepted the offer and went about my day.
Last week I received a reminder email concerning my obligation. I had added it to my calendar, but forgot about it until yesterday. The school counselor called me and asked if there was anything else I needed for tomorrow. The conversation went something like this; "How many kids in each session?" "Well... It looks like you were popular...there are 28 kids in each of your three sessions. We need you here at 7:15 am, and each session will be 30 minutes long." After saying our goodbyes, I hung up the phone. Three groups of 28 teenagers; bored, tired and ready for spring break. What in the world I am I going to do?
There are three categories that all teenagers fall into. They are either eating, sleeping, or texting one another. Since I can't text them, and I really didn't want to bore them to sleep, I chose to feed them rich, sweet, delicious cupcakes at eight in the morning! I talked about being a pastry chef, the schooling, and the salary. I talked about being a food photographer and writer/photographer for Beanilla.
I then invited small groups up to the front to decorate cupcakes. While they were decorating with bunny marshmallows and glitter jellybeans, I had the opportunity to speak to each one of them about their specific career goals. It is amazing what teens will tell you when you bribe them with cupcakes and candy. It was truly an amazing experience! Who knows? Maybe I got the chance to inspire the next Julia Childs or Wolfgang Puck!
During my demonstration I was able to show the kids a simple food photography set-up with blueberry cheesecake cupcakes. The cake is a rich and moist with vanilla bean, is then smothered in a tangy cream cheese frosting, and garnished with sugared blueberries. Each component of the cupcake uses a Beanilla product. Moist and rich vanilla bean cake is dotted with smooth and creamy Tahitian beans. Light and tangy cream cheese frosting is speckled with Tahitian vanilla bean paste. Tart and sweet blueberries are rolled in sweet vanilla sugar. This individual cheesecake recipe is a perfect addition to your holiday or spring dinner table!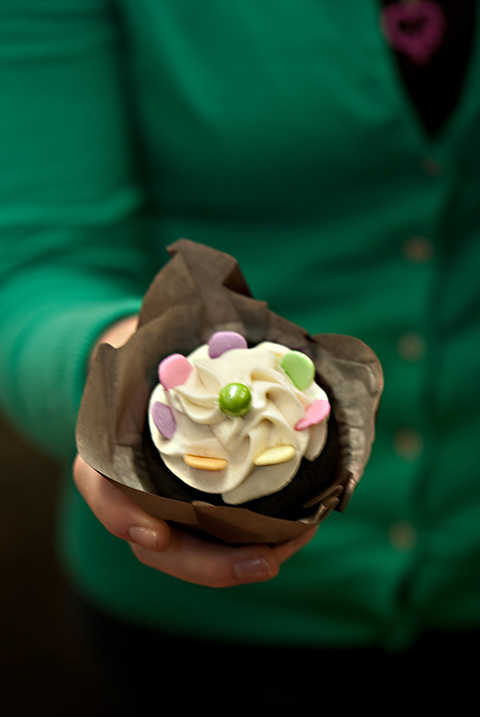 Blueberry Cheesecake Cupcakes
Yields 12 cupcakes
Ingredients:
1 cup sugar
1/2 cup butter (salted and room temperature)
2 eggs
1 Tahitian vanilla bean (scraped)
1 1/2 cups cake flour
1 teaspoon baking powder
1/2 cup milk
Directions:
Preheat oven to 350.
Cream butter, sugar, and eggs together in a mixer fitted with a paddle attachment until fluffy. Add the scraped vanilla beans. Beat to combine.
Combine dry ingredients in a bowl. Slowly add half of the dry ingredients to the wet mixture. Mix until batter is just combined. Pour the milk into the mixture. Mix to combine and add remaining dry ingredients. Mix to combine the remaining dry ingredients.
Pour into cupcake liners in a pan and bake for 20-25 minutes. Let cool, then frost w/ cream cheese frosting.
Cream Cheese Frosting
Yields 4 cups
Ingredients:
4 ounces cream cheese (room temperature)
1 cup salted butter (room temperature)
4 cups powdered sugar
1/3-1/2 cup milk
1/2 tsp. Tahitian vanilla bean paste
1 tsp.almond extract
Directions:
Place cream cheese, butter, powdered sugar, vanilla bean paste and almond extract into a mixer fitted with a whisk attachment. Start on low speed and gradually increase to medium. Slowly add the milk, once the milk is combined in the mixture increase mixer speed to high. Beat on high for 3-5 minutes until light and fluffy
Sugared Blueberries
Yields 1/2 pint
Ingredients:
1 egg white (you can use egg white substitute if you worry about raw eggs)
1/2 cup vanilla sugar
Directions:
Place egg white into a bowl and dump blueberries on top. Toss to coat. Put vanilla sugar into a separate bowl and place egg-coated blueberries into it. Toss to combine. Remove blueberries to a parchment lined baking sheet and let sugar harden. Approximately 2 hours.
Assembly
Pipe the cooled blueberry cheesecake cupcakes with cream cheese frosting and place three sugared blueberries on top.
Share your thoughts, leave a comment