Posted in Baking Recipes, Candy, Snacks & Treats, Sweet Sauces & Caramel by Sarah
Vanilla Fleur de Sel Caramels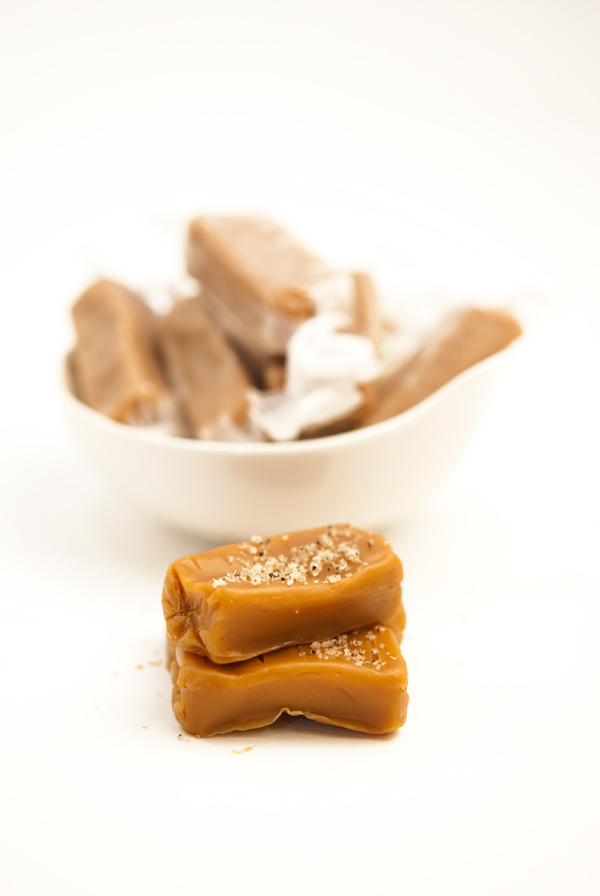 I have been struggling to eat healthier, exercise more and limit the amount of sweets I consume throughout the day. Most days I am really good at it, but some days not so much.... I have expressed to you in previous posts that I have no problem eating chocolate cake, cold out of the fridge for breakfast, but I haven't told you my ultimate weakness! I love anything salty and sweet, especially sea salt soft caramels. I can't get enough of them, and all my healthy eating willpower flies out the window whenever I am near them. I made a batch to photograph, posted it to Beanilla and then sent them over to my neighbors. My neighbors were very happy to be the recipients of the caramels, and I was utterly proud of myself and my willpower. Yay for me!!!
Fleur de Sel caramels are soft and creamy, sweet and salty and relatively simple to make, as long as you bring the mixture to an exact 241 degrees using a candy thermometer. A few degrees either way can result in caramel hard candies or a delicious bowl of caramel soup. Delicious, but not what we are striving for!
Vanilla is added to the caramel mixture after the precise temperature of 241 degrees is achieved. If it is added sooner the flavor profiles of vanilla will be destroyed in the boiling process. I chose to add Ugandan vanilla beans to my caramels. The flavor of the bean is very bold and rich; perfect for high heat applications, such as caramels and sauces.
The addition of Ugandan vanilla beans to the salted caramels adds a flavor that is earthy with delicious undertones of sweet milk-chocolate. Uganda, known informally as the Pearl of Africa, is an ideal location for vanilla production. Uganda is one of the very few regions with two distinct dry seasons per year. Each dry season allows for a strong vanilla harvest, therefore providing extremely fresh vanilla all year round. Our beans are plump, fresh and bursting with vanilla bean caviar and are perfect for this delicious recipe.
Enjoy!
Share your thoughts, leave a comment!
← Previous Post
Next Post →