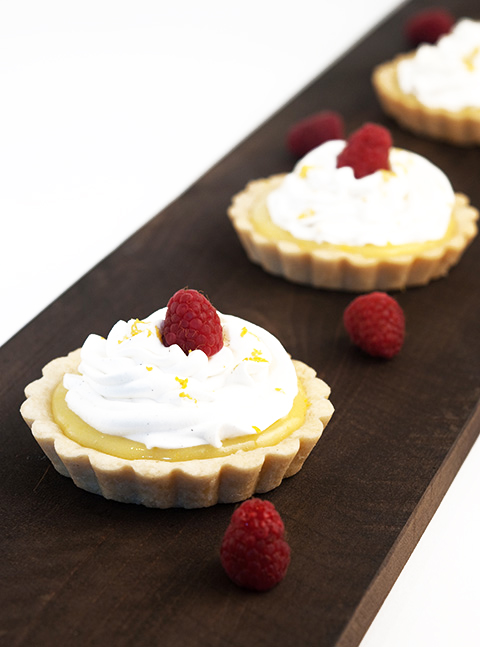 The sun is out, the birds are chirping and the temperature is slowly climbing above freezing. I look out my office window and see the neighbor kids playing basketball in short sleeves, couples walking their dogs and others slowly emerging from winter hibernation. Spring seems to have finally found us!
In celebration of green grass, fresh flowers and bountiful farmers markets to come, I have decided to celebrate with a bright and tangy tart -- a Meyer lemon and orange tart to be precise. Meyer lemons are a specialty lemon that is a cross between a lemon and a mandarin orange. They are typically sweeter and less acidic than traditional lemons making them a perfect choice for desserts and pastries.
I chose to use Tahitian vanilla bean paste in all components of this tart. The versatility and flavor profile of the paste compliments each component perfectly. Our 3-Fold Tahitian Vanilla Bean Paste is made using three times as many vanilla beans as single fold vanilla bean paste. As a result, you get a much fuller, richer and more intense hit of vanilla flavor. Our Vanilla Paste is for the chef or baker who wants a little more performance out of their vanilla flavor. Since it is three times as concentrated, you will use a third less than what the recipe calls for, meaning a little goes a long way (my recipe below takes this into account). This paste packs a serious flavor punch!
Sweet Tart Shell
Yields 8 medium tarts
Tart shell adapted from Epicurious.com
Ingredients:
1/2 cup salted butter (cut into pieces and frozen)
3/4 cup pastry flour
3/4 cup all-purpose flour
1/2 cup powdered sugar
3 large egg yolks
3 tablespoons ice water
1/2 teaspoon Tahitian vanilla bean paste
Directions:
Combine frozen butter, pastry flour, all purpose flour and powdered sugar into the food processor bowl. Pulse until small bits of butter can still be seen, but are well incorporated into the mixture.
In a small bowl whisk together the ice water, egg yolks and vanilla bean paste until combined. With the food processor on dough setting, slowly add the egg mixture into the bowl. Run the food processor until the dough begins to form. Turn off food processor and dump dough onto a sheet of plastic wrap. Fold plastic wrap around the dough and push down and on the sides to form a disk of pastry dough. Refrigerate at least 1 hour until firm.
To form dough into tart shells: Divide dough into 8 pieces. Gently push dough into bottom of sprayed medium sized individual tart pan, push up the sides and scrape off excess dough from the top using a sharp paring knife.
Bake tart shells at 375 degrees for 15 minutes until lightly browned. Cool to room temperature.
Orange Meyer Lemon Curd
Ingredients:
2 meyer lemons
1 Valencia orange
3/4 cup sugar
1/4 tsp. Tahitian vanilla bean paste
1/4 pound unsalted butter, room temperature
4 extra-large eggs
1/4 cup lemon juice (2 to 3 Meyer lemons)
1/4 cup fresh squeezed orange juice
Directions:
Using a grater or micro plane, zest the rind of 2 Meyer lemons and 1 orange into a small bowl. Place the sugar and zest into a food processor bowl, pulse until all the zest is incorporated into the sugar. Slowly add the butter and vanilla bean paste until smooth and creamy. Whisk together the eggs and lemon juice. With the food processor on, add the egg mixture, run until all ingredients are incorporated.
Pour mixture into a medium saucepan and place on stove with the temperature set to low. Whisking continuously, bring to low simmer and continue whisking for 10 minutes until mixture becomes thick and custard like. Transfer to bowl and place a sheet of plastic wrap on the surface of the curd (this keeps the curd from forming a skin). Chill overnight.
Fresh Whipped Cream
Ingredients:
1/2 pint heavy cream
1/8 cup sugar
1/2 tsp. Tahitian vanilla bean paste
Directions:
Place heavy cream and vanilla bean paste into a mixer fitted with a whisk attachment, beat on low until soft peaks begin to form. Add sugar. Increase speed and beat until thick and creamy.
Assembly
Remove tart shell from pans, place on parchment lined baking sheet. Spoon in the orange-meyer lemon curd until you just reach the top of the tart. Pipe or spoon on the whipped cream into the center of the curd. Garnish with lemon and orange zest and a fresh raspberry.
Refrigerate or serve immediately.
Share your thoughts, leave a comment