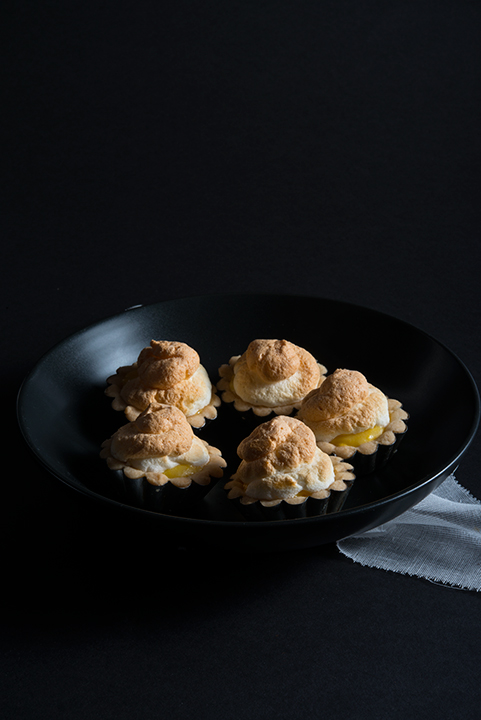 Tangy lemons, buttery crust and light and airy meringue come together in one perfect bite. Lemon meringue tarts are the epitome of summer; bright and cheery. Savor these sweet bites before the summer begins to fade in fall and apple pies and pumpkin donuts slowly replace lemon desserts. I for one am not quite ready for the cool nights, fall leaves and warm spices that fall brings. I think I'll enjoy what is left of warm summer days and nights while I still can.
Lemon curd tart with meringue can seem like a daunting task but when broken into three steps, a seemingly daunting task becomes much easier. The lemon curd and tart shells can be made ahead of time, and the meringue beaten moments before browning in the oven for 10 minutes. Sounds less complicated, doesn't it!
Lemon curd typically does not include vanilla or vanilla bean scrapings. I have found that the addition of vanilla bean paste adds a creamy floral note that the tart lemon curd is lacking without it.
Our Tahitian vanilla bean paste is made using three times and many vanilla beans as we do in our double strength Beanilla Vanilla Paste. As a result, you get a much fuller, richer and more intense hit of vanilla flavor. Our Vanilla Paste is for the chef or baker who wants a little more performance out of their vanilla flavor. Since it is three times as concentrated, you will use half as much, meaning a little goes a long way. This paste packs a serious flavor punch!
Lemon Meringue Tartlets Recipe
Yields 6-10 (depending on tart pan size)
Ingredients:
9 inch round

of your favorite pie crust recipe
Directions:
Invert the tartlet pans onto the pie dough and adding a 1-inch all the way around cut out small rounds. Continue until all dough has been cut into rounds. Spray each pan with pan spray and gently form the dough into the tin. Remove any excess that extends beyond the tin. Bake at 350 degrees for 10-15 minutes until the shells are lightly golden brown. Let cool and invert the shells onto a 9x13 baking sheet.
Lemon Curd:
3

lemons (for zesting)

3/4 cup

sugar

1/4 tsp.

Tahitian vanilla bean paste

1/4 pound

unsalted butter, room temperature

4

extra-large eggs

1/4 cup

lemon juice (cut the lemons in half after you have zested them, squeeze the juice into the measuring cup)

1/4 cup

fresh squeezed orange juice
Directions:
Using a grater or micro plane, zest the rind of 3 lemons into a small bowl. Place the sugar and zest into a food processor bowl; pulse until all the zest is incorporated into the sugar. Slowly add the butter and vanilla bean paste until smooth and creamy. Whisk together the eggs and lemon juice. With the food processor on, add the egg mixture, run until all ingredients are incorporated.
Pour mixture into a medium saucepan and place on stove with the temperature set to low. Whisking continuously, bring to low simmer and continue whisking for 10 minutes until mixture becomes thick and custard like. Transfer to bowl and place a sheet of plastic wrap on the surface of the curd (this keeps the curd from forming a skin). Chill overnight.
Spoon the lemon curd into the tart shells.
Meringue:
To Make Meringue: In a stand mixer on medium speed, whip egg whites until foamy.
Add sugar gradually, and continue to whip until stiff peaks form. Spread meringue over, sealing the edges at the crust.
Bake in preheated oven for 10 minutes or until meringue is golden brown in color.
Share your thoughts, leave a comment