Posted in Baking Recipes, Pastries & Tarts by Sarah
Lemon Meringue Tartlets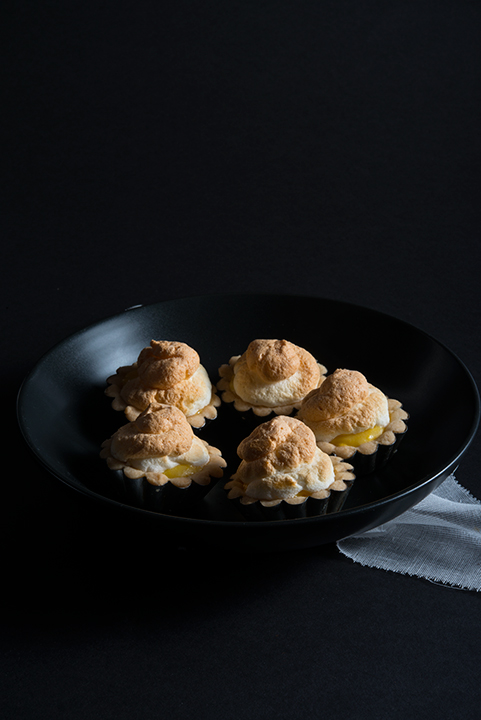 Tangy lemons, buttery crust and light and airy meringue come together in one perfect bite. Lemon meringue tarts are the epitome of summer; bright and cheery. Savor these sweet bites before the summer begins to fade in fall and apple pies and pumpkin donuts slowly replace lemon desserts. I for one am not quite ready for the cool nights, fall leaves and warm spices that fall brings. I think I'll enjoy what is left of warm summer days and nights while I still can.
Lemon meringue tarts can seem like a daunting task but when broken into three steps, a seemingly daunting task becomes much easier. The lemon curd and tart shells can be made ahead of time, and the meringue beaten moments before browning in the oven for 10 minutes. Sounds less complicated, doesn't it!
Lemon curd typically does not include vanilla or vanilla bean scrapings. I have found that the addition of vanilla bean paste adds a creamy floral note that the tart lemon curd is lacking without it.
Our Tahitian vanilla bean paste is made using three times and many vanilla beans as we do in our double strength Beanilla Vanilla Paste. As a result, you get a much fuller, richer and more intense hit of vanilla flavor. Our Vanilla Paste is for the chef or baker who wants a little more performance out of their vanilla flavor. Since it is three times as concentrated, you will use half as much, meaning a little goes a long way. This paste packs a serious flavor punch!
Share your thoughts, leave a comment!
← Previous Post
Next Post →