Posted in Savory Recipes by Sarah
Mango Vanilla Salsa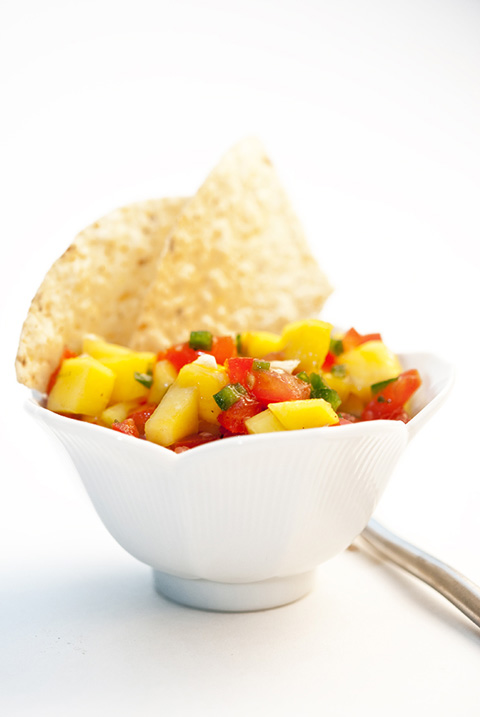 It's been a long but productive week, and it's only Wednesday! By mid-week I am very ready for the weekend, and tired of cooking. Takeout would be a simple solution, but not always the healthiest choice. So, when I am tired, my simple recipe of choice is mango salsa. Bright, sweet and fruity mango is diced and combined with spicy jalapeño, juicy red tomatoes, red onions and chopped garlic. The addition of a Tahitian vanilla bean to my salsa adds a sweet and floral flavor and enhances the natural sweetness of the mango. Mango salsa with Tahitian vanilla bean is the perfect complement to grilled fish, sautéed chicken or savory flank steak fajitas.
The combination of fresh fruit, crisp vegetables and vanilla may seem like a strange concoction. I assure you that it is incredibly delicious!
There are two types of Tahitian vanilla beans; those from Tahiti and those from Papua New Guinea. Vanilla from Tahiti is incredible with an aroma that is floral, and with tones of ripe fruit. The major difference between Tahiti vanilla and Papua New Guinea (PNG) vanilla is the size. The beans from Tahiti are enormous! These vanilla beans are 2-3 times as plump as other varieties, and therefore contain significantly more caviar inside of the bean. Vanilla from Tahiti is Beanilla's favorite!


Why are these vanilla beans more expensive than other varieties? First and foremost, their size and caviar content mean each Tahitian vanilla bean is about twice the size of other vanilla beans. Vanilla beans from Tahiti are huge!
Second, Tahiti is a fairly developed country, especially compared to other regions that grow vanilla. This equates to significantly higher production costs. The farmers we work with in Tahiti are very proud of their product and simply cannot sell it for what other countries do. Selling vanilla for any less would simply not be sustainable. We are proud to support these farmers. So, next time you find yourself tempted to pull out that take-out menu remember that a simple and healthy option, such as grilled salmon and fresh mango salsa, is only 30 minutes away.
Share your thoughts, leave a comment!
← Previous Post
Next Post →