Fresh Fruit with Vanilla Bean Syrup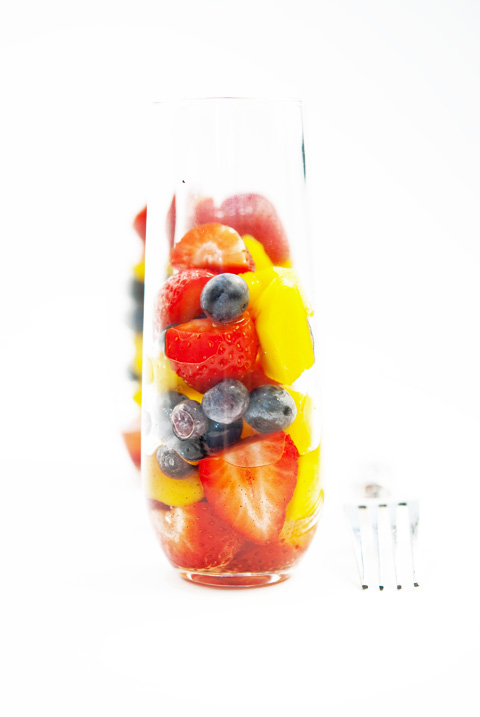 I recently walked into the grocery store and was immediately greeted by the sweet aroma of strawberries. The sweet smell instantly transported me back to Southern California. The strawberry fields in Carlsbad were in full production this time of year. The kids and I loved to gather up our beach gear, put the top down on the jeep and head to the coast for a day of sun, sand and strawberry picking. Many of the sweet berries never quite made it home, but those that did usually ended up in a simple fruit salad or even homemade jam to savor during the winter months.
The strawberries in Michigan aren't quite ready for picking but the California strawberries have made their way to our grocery stores and they are delicious! Pair these sweet red beauties with a ripe exotic mango and some fresh blueberries and you'll have a simple and refreshing early summer treat. The addition of Tahitian vanilla bean syrup adds a sweet floral note to the ripe fruit. Our Tahitian vanilla beans are huge and you'll only need to use half of a vanilla bean in this recipe!

The major differences between Tahiti vanilla and Papua New Guinea (PNG) vanilla is the size. These beans are enormous! These vanilla beans are 2-3 times as plump as other varieties and therefore contain significantly more caviar inside of the bean. Vanilla from Tahiti is Beanilla's favorite!
Why are these vanilla beans more expensive than other varieties? First and foremost, their size and caviar content mean each Tahitian vanilla bean is about twice the size of other vanilla beans. Vanilla beans from Tahiti are huge!
Second, Tahiti is a fairly developed country, especially compared to other regions that grow vanilla. This equates to significantly higher production costs. The farmers we work with in Tahiti are very proud of their product and simply cannot sell it for what other countries do. Selling vanilla for any less would simply not be sustainable. We are proud to support these farmers.
Fresh Fruit with Vanilla Bean Syrup
Yields 6 servings
Ingredients:
½ pint blueberries
½ quart strawberries
2 mangoes
Directions:
Wash blueberries and strawberries. Slice strawberries into bite sized pieces. Peel the mangoes, and then slice around the pit to remove the flesh of the fruit. Chop mangoes into bite sized pieces. Set aside the fruit to assemble the fruit salad.
Vanilla Bean Simple Syrup
Yields 16 ounces
Ingredients:
½ Tahitian vanilla bean (split and scraped)
2 cups sugar
1 cup water
Directions:
Bring sugar, water and Tahitian vanilla bean scrapings to a low simmer. Simmer until all sugar has dissolved and no longer visible. Remove from heat and let cool. Once cool place in a plastic squeeze bottle for ease of use. Vanilla bean simple syrup is suitable for many uses and will keep in the fridge for up to a month.
Assembly
Divide fruit among six glasses of your choice. Using the squirt bottle, squirt approximately 1-2 tbsp. of vanilla simple syrup on top of the fruit. Chill and enjoy!
Share your thoughts, leave a comment