Posted in Savory Recipes, Salads by Sarah
Strawberry Spinach Salad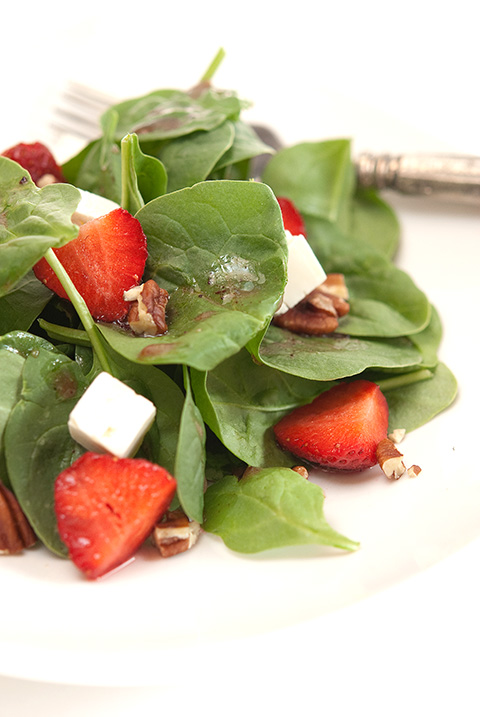 There is nothing more beautiful or fragrant than a strawberry picked fresh from the field. Warmed by the summer sun, the bright red and juicy berry begs to be eaten. The berries that make it home are the perfect addition to any dessert, but why stop at dessert? Freshly picked strawberries are the perfect combination of sweet and tart. The perfect complement to a fresh spinach, briny feta and crunchy pecans. My mouth waters just thinking about it.
A salad this perfect needs a great dressing. One that incorporates the sweetness of the strawberry with the acidic brininess of the feta. A simple vinegar and olive oil vinaigrette is brought to new levels with the addition of pureed fresh strawberries and chopped thyme. One bite and the flavors of summer explode in your mouth.
All vinaigrettes need to be balanced with a touch of sweetness, vanilla sugar is the perfect way to incorporate that sweetness and add a interesting new flavor profile with vanilla beans. Do you have some vanilla beans lying around? If so, you can make homemade vanilla sugar that will taste excellent in this strawberry-vanilla vinaigrette recipe.
Share your thoughts, leave a comment!
← Previous Post
Next Post →