Blueberry Zucchini Muffins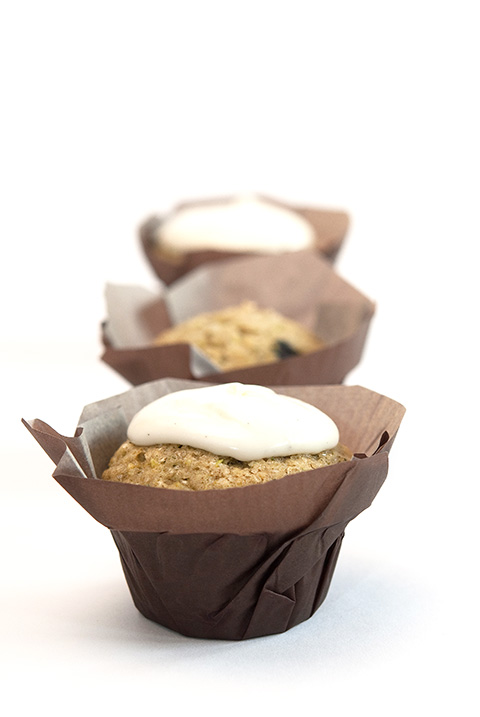 My garden is huge! The tomatoes have all grown together to form one gigantic tomato plant. I pick up one branch and realize that I will have more tomatoes than any one family could possibly ever need. If you see me trying to give them away to neighbors, friends or even on the side of the road in a makeshift farm stand, please politely smile and wave. The tomatoes may have taken over, but the zucchini is just getting started. I was able to go out and pick a few the other day. While flipping through magazines and websites for culinary inspiration, I stumbled upon a delicious recipe for zucchini muffins. Perfect! Zucchini muffins are delicious on their own, but the addition of fresh picked blueberries and a tart and creamy cream cheese glaze pushes them over the top.
Of course, no frosting is complete without the addition of vanilla. Not just any vanilla. Madagascar vanilla bean paste is made from whole Madagascar vanilla beans. One look at our vanilla bean paste and you will know that our product is delicious!! Not only is it delicious and adds a wonderful vanilla flavor to this cream cheese glaze, you also get the visual appeal of vanilla bean caviar throughout the glaze. This is sure to impress even the pickiest of gourmands.
Blueberry Zucchini Muffin
Yields 12
Adapted from Taste of Home
Ingredients:
3/4 cup all-purpose flour
1/2 cup sugar
1/4 teaspoon baking powder
1/4 teaspoon baking soda
1/4 teaspoon salt
1/4 teaspoon ground cinnamon
1 egg
1/2 tsp. almond extract
1/4 cup canola oil
1 cup finely shredded unpeeled zucchini
1 cup fresh blueberries
Cream Cheese Glaze
Ingredients:
8 ounces cream cheese
2 cups powdered sugar
1 tsp. Madagascar vanilla bean paste
Directions:
Combine all dry ingredients into a medium bowl. In a separate bowl whisk together the eggs, almond extract, grated zucchini and blueberries. Add the wet ingredients into the dry ingredients and fold together using a rubber spatula.
Divide batter evenly between 12 baking cups. Bake at 350 degrees for 20-25 minutes until light golden brown.
Cool at room temperature.
Cream Cheese Glaze
Directions:
In a food processor fitted with metal blade, put in softened cream cheese. Pulse to distribute throughout the bowl. Add powdered sugar and vanilla. Run food processor until glaze is creamy.
Spoon 2 tbsp. of glaze into the center of the muffin. Enjoy!
Share your thoughts, leave a comment