Posted in Baking Recipes, Breakfast & Brunch, Breads & Muffins by Sarah
Cranberry-Orange Muffins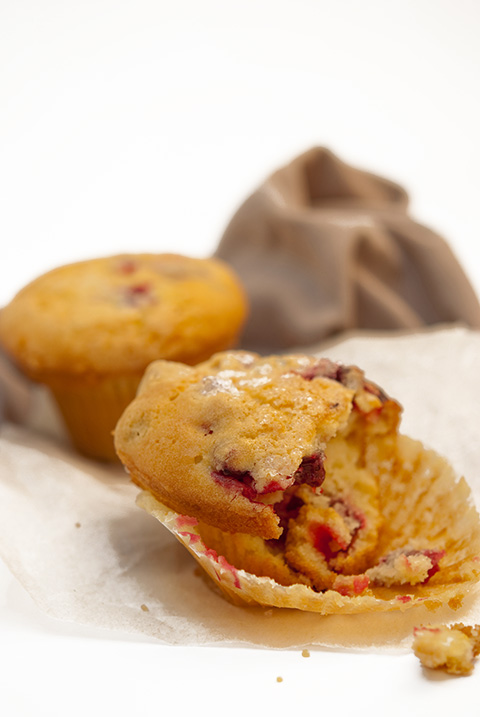 Sweet oranges pair perfectly with tangy cranberries in this soft and fluffy muffin creation. Typically, when you think of cranberries and orange juice your mind instantly wanders to big mid-day meals filled with mounds of roasted turkey and carb loaded stuffing. Cranberries are a very versatile fruit that can be utilized in many applications beyond Thanksgiving dinner. Cranberry-orange muffins are a great example. The muffin is inherently sweet, the orange juice adds a nice sweet citrus flavor and the cranberry adds an unexpected pop of tartness. This is the perfect combination of flavors to brighten up any morning routine. This muffin is wonderful just as it is, but the addition of Tahitian vanilla bean paste brings it to a whole other level of deliciousness.
Delicate, floral and fruity is the best way to describe our 3-fold Tahitian vanilla bean paste. Vanilla paste awards the simplicity of using vanilla extract while allowing the convenience, flavor and appearance of using whole vanilla beans. We are all familiar with vanilla extract, the most popular flavor in the world. Now we offer the same full-bodied vanilla flavor with a unique twist: the addition of the distinctive vanilla seeds in a rich concentrated paste. Use vanilla bean paste's thicker viscosity to flavor cakes, puddings, cookies, custards, icing, frosting, whipped cream, ice cream or anywhere the flavor and appearance of vanilla bean is desired. Using vanilla bean paste saves the effort of scraping the seeds from the whole vanilla bean.
Our 3-Fold Tahitian Vanilla Bean Paste is made using three times as many vanilla beans as we do in our single fold extracts. As a result, you get a much fuller, richer and more intense hit of vanilla flavor. Our Vanilla Paste is for the chef or baker who wants a little more performance out of their vanilla flavor. Since it is three times as concentrated, you will use half as much, meaning a little goes a long way. This paste packs a serious flavor punch!
Share your thoughts, leave a comment!
← Previous Post
Next Post →