Posted in Baking Recipes, Breakfast & Brunch, Breads & Muffins by Sarah
Vanilla Donut Muffins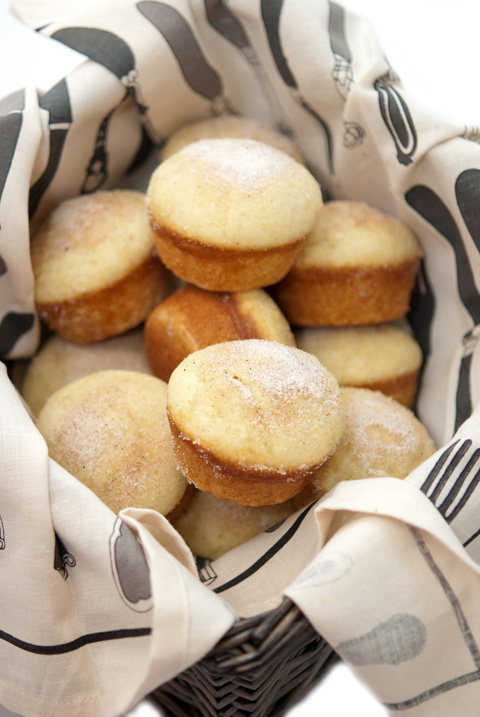 I have never met a doughnut that I didn't like. That being said, it is the New Year and we all are looking for ways to trim a few calories and dreaded fat from our diets. Traditionally, donuts are yeast or cake dough that is fried and then dredged in a sweet, creamy frosting or filled with a sugary fruit filling. Donut muffins satisfy the craving for a calorie-laden fried donut, but with fewer calories, and no frying! Simple to make with the texture of a classic cake donut, donut muffins are sure to satisfy even the diehard donut fan.
Donut muffins are the perfect way to begin your morning. Light, with a cake donut-like texture, they are easy to make the night before and hand out to tired and hungry family members as they leave for the day. Portable, baked and delicious, these muffins are a sensible replacement for the overly fried and sweet donut.
I know what you're thinking, "What about the glaze?" Donut muffins are brushed with a small amount of butter and sprinkled with a delicious vanilla-cinnamon sugar topping. While you could choose just about any vanilla bean for the topping of the muffin, we choose the highly aromatic and fruity Tahitian vanilla bean. Our Tahitian vanilla beans are the real deal! Grown for us in Tahiti, these beans will rival any vanilla bean you can find in your local grocery store. Sweet and creamy, the bean gives the muffin a classic vanilla flavor in every bite.
Share your thoughts, leave a comment!
← Previous Post
Next Post →