Vanilla Pomegranate Sparkling Cocktail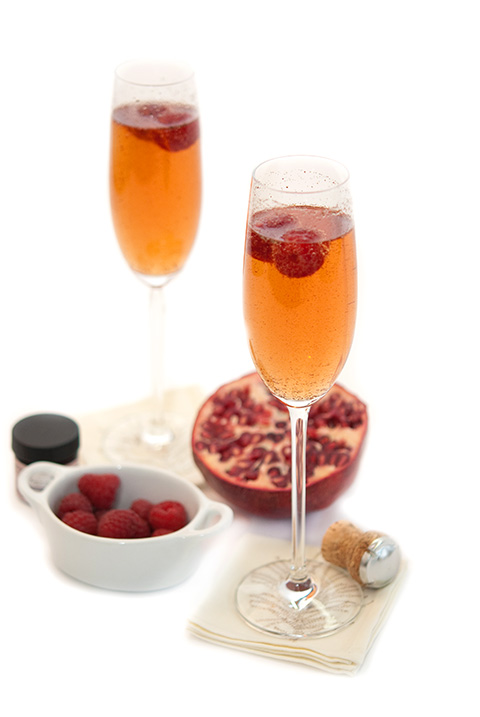 What was your New Year's resolution this year? Whether your goal was to lose that last 5 pounds, run a marathon, eat less, find love or spend more time with the one's you love; toast to some of your resolutions with our Vanilla Pomegranate Sparkling Cocktail.
The New Year's resolution is a tradition, most common in the Western Hemisphere, in which a person makes a promise to do an act of self-improvement beginning from New Year's Day. In ancient times, the Babylonians made promises to their gods that they would pay their debts and return borrowed objects. The Romans began each year by making promises to the god Janus. Popular goals often include resolutions to eat healthy, lose weight, exercise more and drink less alcohol.
Well, as some of us may have already discovered, sometimes it is difficult to uphold those "promises" we make year after year. So have a toast to some of those successful (and unsuccessful) New Year's resolutions with our vanilla-pomegranate sparkling cocktail. The sweet blush moscato combines with tart pomegranate juice and fruity Madagascar vanilla bean paste to create a drink you and your guests are sure to enjoy!
Vanilla Pomegranate Sparkling Cocktail
Yields 6
Ingredients:
1 bottle

sparkling blush moscato

1 cup

pomegranate juice

Madagascar

Vanilla Bean Paste (3-fold)

Raspberries (for garnish)
Directions:
Place 2 fresh raspberries into the bottom of each champagne flute. Drizzle two drops of Madagascar vanilla bean paste over the raspberries. Pour pomegranate juice over the raspberries and vanilla, 1/3 of the way up. Pour the sparkling blush moscato to fill the glass.
Share your thoughts, leave a comment