Posted in Baking Recipes, Beverages, Drinks & Cocktails by Sarah
Ginger Peach Champagne Cocktail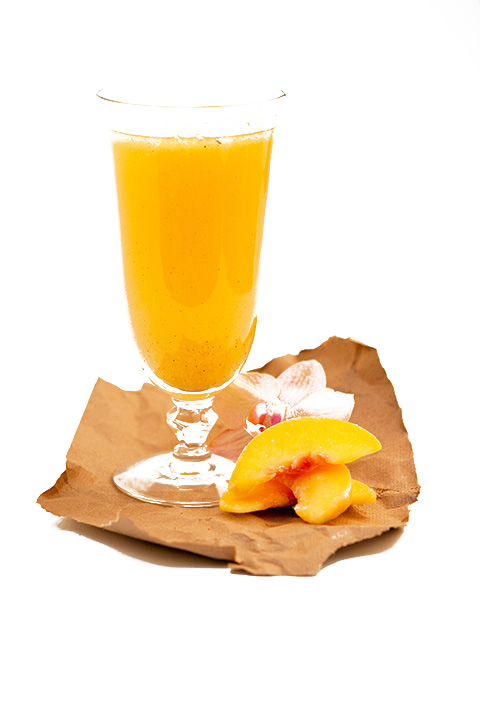 Being a mother is the most challenging, exhausting, amazing experience. Now that my children are more than 3/4 of the way to adulthood, I realize I could of never made it through the stages of their lives without the mother's in my life. These women are not limited to my biological mother, they are women who I cherish for many reasons. These amazing women will always hold a special place in my heart and each and every Mother's Day I celebrate their presence in my life.
Celebrate the special mother's in your life with a handmade gift, a thoughtful card or even a scrumptious brunch. Eggs Benedict with creamy hollandaise, a homemade blueberry muffin and let's not forget the peach Bellini. A peach Bellini is a signature brunch cocktail worthy of a special occasion. I could just stick to the classic mixture of champagne and peach puree but that would be boring. I created a hybrid of the Bellini, the Ginger Peach Champagne Cocktail. A special concoction of pureed peaches, ginger extract, vanilla bean simple syrup and of course really good champagne.
Natural Ginger flavor from Beanilla is slightly sweet yet pungent, spicy with lemon undertones. Our Natural Ginger Flavor will add some zing to your cooking! This versatile flavor is sure to be a perfect go-to all year round addition in sweet and savory dishes alike. Ginger pairs well with apples, bananas, beef, chicken, seafood, as well as many marinades and sauces. Natural Ginger Flavor is easy to use; no shredding or chopping necessary. Smooth, fresh ginger flavor in one easy pour.
Happy Mother's Day to all the mothers in your life and mine!
Share your thoughts, leave a comment!
← Previous Post
Next Post →