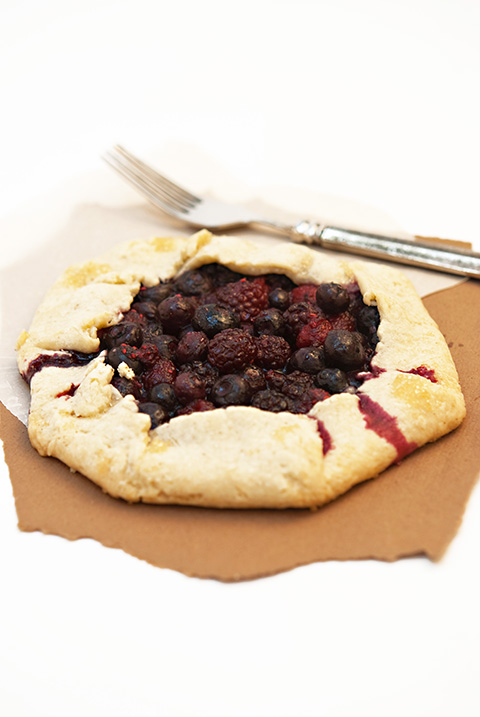 The new Grand Rapids Farmers market officially opened here in Michigan this past weekend! I love the farmers market; the sights, the smells and the people that gather to purchase fresh picked fruits and vegetables and baked goods. I love that small business owners, local farmers and the occasional home cook are given the opportunity to support themselves and grow their businesses. I even love the crowds....  But what I love most of all is the inspiration I gather from wandering the different vendors. It's magical.
As I perused the different vendors, I was hoping to find some fresh berries to take home with me to create a simple mixed berry galette. Unfortunately, I think I have another month or so to wait until they start to appear. For now, I will rely on the next best thing -- frozen. While fresh berries are always the preferred route for any pie, frozen berries are the next best thing.  You may be wondering what a galette is... It is a rustic tart with a berry or fruit center. No tart pans or pie plates required -- simply dough, two hands and some berries infused with almond extract.
Almond has the unique ability to bring flavors together. Almond scones, frosting and cakes are now within reach with this premium almond extract. We are very proud of the depth of flavor provided by this incredible extract. Our pure almond extract enhances the flavor of the berries, and brings a wonderful sweet and nutty flavor to the whole dessert.
Mixed Berry Galette
Yields 4 Individual Galettes
Ingredients:
Crust
2 1/2 cups all purpose flour (plus 1/8 cup extra for kneading)
1 cup salted butter (cut into cubes)
1 1/2 teaspoons sugar
1/4 teaspoon

Tahitian vanilla bean paste

(3-Fold)
8 tablespoons ice water
coarse sugar
2 tablespoons milk
Filling
12 ounces frozen mixed berries (thawed)
1/3 cup sugar
1 tsp.

almond extract
Directions:
Put flour, butter cubes, sugar and vanilla bean paste into a food processor bowl fitted with blade. Pulse until the butter becomes fine bits throughout the flour. With the food processor running slowly add water until dough just begins to form. Stop the food processor, remove blade and dump contents of the bowl out onto a floured surface.
Form dough into a disk and wrap in plastic wrap. Refrigerate for 1-2 hours.
To form the crust rounds:
Cut dough into four pieces. Place dough on lightly flour surface and start rolling from the center of the dough. Roll out to each edge of the dough and rotate the dough 60 degrees. Continue this 5 more times until you have a perfect circle. Put aside and prepare the berry filling.
Place frozen berries (thawed), sugar and almond extract into a bowl and toss to mix. Spoon 3 ounces of berries into the center of the pastry dough rounds. Roughly gather one edge 1/3 into the center of the berry mixture. Form a single pleat with each edge and repeat 5 times until all edges are brought 1/3 to the center of the galette. Brush with milk and sprinkle with coarse sugar.
Bake at 375 degrees for 25-35 minutes until crust is golden brown and berry mixture is bubbling.
Share your thoughts, leave a comment