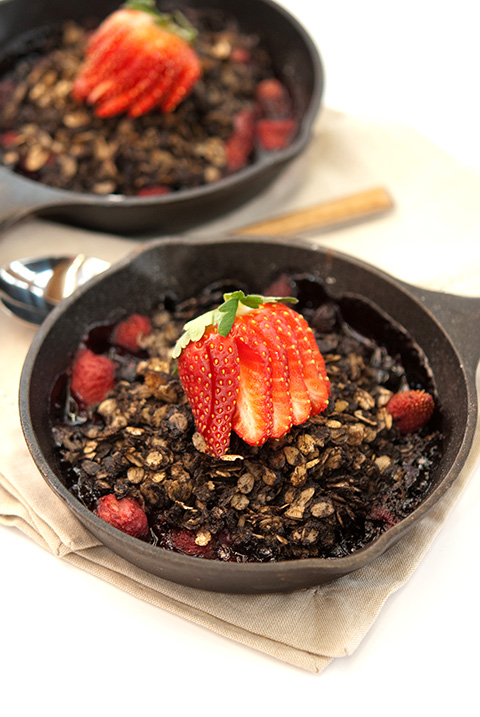 The origin of the crisp is decidedly an American invention. When it came to recipes, early settlers were often forced to use what was readily available and on hand. Early American settlers often improvised; they had limited access to ingredients or the ability to run to the store when needed. Quite often, each creation varied from the last; oats may not have been available so ground nuts were often substituted, or flour was used in its place. There are many variations of the crisp and many have different and interesting names given to them such as: grunt, cobbler, buckle, slump, pandowdy or even a sonker. Each recipe varies from region to region. The crisp or the cobbler is what many of us in the United States are familiar with. The cobbler has more of a biscuit or cake like crust while the crisp is traditionally made with oatmeal and ground nuts as a base.
Berry Chocolate crisp adds one more layer of flavor to a very simple and comforting dessert. Chocolate and Ugandan Vanilla beans! The addition of dark cocoa powder to the crisp topping adds a depth of flavor not often found in traditional crisps. Have you ever had chocolate covered strawberries? This dessert will satisfy your desire for chocolate, berries and a crisp topping all in one delicious bite!
We at Beanilla always add vanilla to our desserts not only because we are a vanilla company but because… well... vanilla just makes every dessert taste better! Each of our vanilla beans have distinct and unique flavor profiles. The Ugandan vanilla bean is one of our favorites to pair with just about anything chocolate! Vanilla produced in Uganda is simply incredible. The aroma is earthy with undertones of milk-chocolate. The flavor is very bold as these vanilla beans produce a very high amount of vanillin making them perfect for rich desserts and chocolates.
Berry Chocolate Crisp Recipe
Yields 4 individual servings
Ingredients:
20 ounces

frozen mixed berries

1 tbsp.

cornstarch

½ cup

sugar

1

Ugandan vanilla bean (split and scraped)

½ cup

old fashion oats

¾ cup

flour

¼ cup

dark cocoa powder

½ cup

brown sugar

½ tsp.

salt

6 tbsp.

butter (melted)
Directions:
Preheat oven to 350 degrees.
In a bowl combine the frozen berries with cornstarch, sugar and vanilla bean scrapings. Set aside.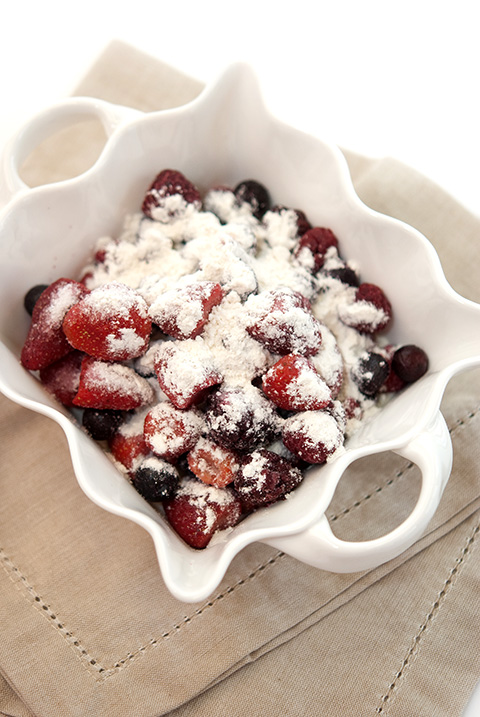 In a separate bowl combine the oats, flour, cocoa powder, brown sugar and salt.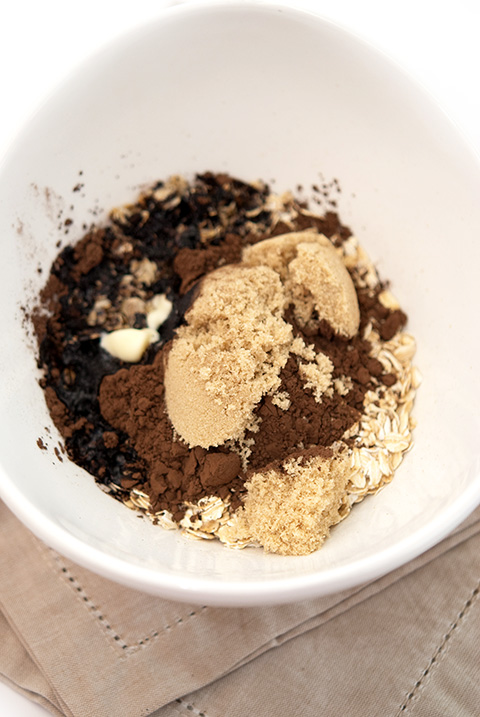 Pour the melted butter over the oat mixture and stir to combine. Divide the berry mixture among four individual baking dishes or one standard baking dish. Spoon the oat mixture over the individual ramekins or spread the entire oat mixture over the one standard baking dish.
Bake for 25-30 minutes until the berries are bubbling through the oat topping. Serve warm with a scoop of vanilla ice cream!
Share your thoughts, leave a comment