Posted in Baking Recipes, Seasonal Baking Recipes, Cobblers, Crisps & Crumbles by Sarah
Rhubarb Crisp Recipe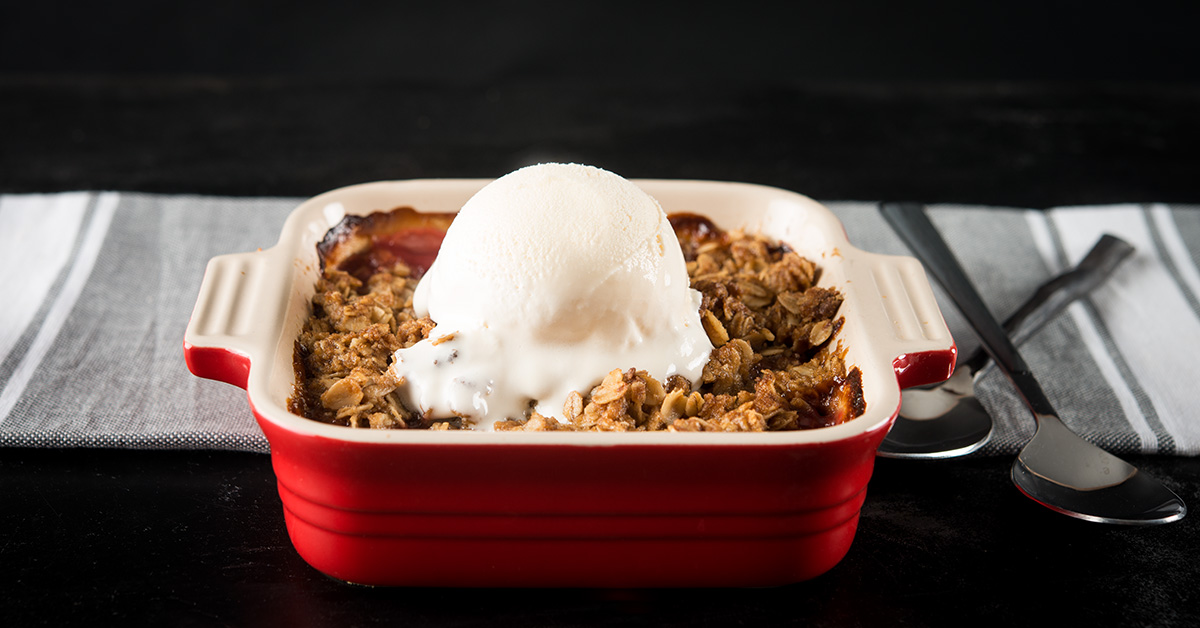 Rhubarb is a classic garden perennial found in many spring planting beds. This plant's large crimped leaves emerge early on in the season, with its bright red stalks following close behind. As a small child, I have wonderful vivid memories of gardening with my family. As the ground began to thaw and the days turned warmer and longer, my parents and grandparents began to till the soil in preparation for seeds and seedlings. Our rhubarb seedlings were first lovingly sown inside, waiting on a sunny ledge in our home while the cold winter weather continued on.
Snap peas, cherry tomatoes, radishes, and leafy greens were some of our other standard Midwest spring garden crops. As soon as the ground had been tilled and the risk of frost had diminished, my brothers and I were handed the seeds and seedlings to plant. Barefoot with our precious cargo in tow, we'd head out to the slightly warmed soil and began planting meticulously. Growing up in a large family of all brothers, I've never been one to shy away from getting dirty. Dirty hands, dirty feet; I'd be the first to scramble up the tall maple or jump from the rope swing into the creek behind our house. I still love to feel the sensation of freshly tilled soil on my bare feet… when the top layer of soil is warmed by the spring sun, but once your feet sink into the ground it feels soft and cold. Although we repeated this process each and every season, I was always pleasantly surprised to be greeted by the trademark large green leaves and bright red stalks of the rhubarb plant. My parents and grandparents would bring out a pair of garden shears and the red stalks would be harvested, washed off with the freezing cold water of the garden hose, and set to dry on the kitchen counter.
I will never pass up a bite of homemade rhubarb dessert. Lightly sweetened and chilled in the fridge, my favorite has always been rhubarb crisp. I can't get enough of how the rhubarb cooks down into a soft consistency, and how beautifully it melds with the sweet buttery crumble topping. The incredible sweetness of this sugar and oatmeal topping helps to support the inherently tart flavor of lightly sweetened rhubarb. Paired with a scoop of vanilla ice cream, rhubarb crisp is the epitome of spring!
Share your thoughts, leave a comment!
← Previous Post
Next Post →