Green Smoothie - with Vanilla!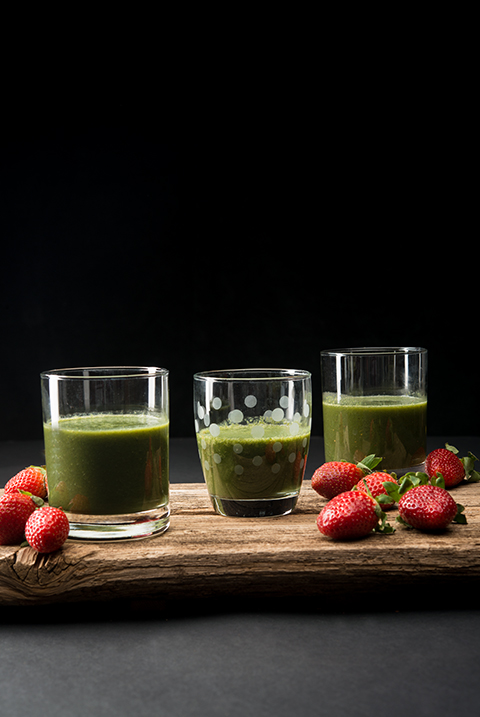 I consider myself a Michigan native, but I've certainly ventured beyond the borders of the beautiful state. As self-proclaimed wanderer, daydreamer, and adventure seeker, I rarely turn down an opportunity for a new venture. I love to take risks. This wanderlust also extends to my choice of food - I've always been adventurous when it comes to trying new cuisines, flavors, or interesting food combinations. (There are a few things I simply cannot swallow, but don't we all have those…)
While living in San Diego, one of my favorite places to explore was the Hillcrest Farmer's Market - a mecca of fresh fruits, vegetables, prepared foods, coffee, and green smoothies. Healthy green smoothies may sound and look like they simply would not be palatable, but trust me, made right they are delicious! My seven-year-old son would make a beeline straight to the green smoothie vendor - zooming right past the gourmet cookie cart and French macarons! A seven-year-old turning down sweets in favor of fruits and vegetables? This smoothie is something special.
Typically, a green smoothie is any combination of kale, spinach, apple, banana, protein powder, and carrots. Vanilla beans are not a traditional addition to most smoothies and juices, but life is about experimentation. This culinary venture took me to a place well worth revisiting! The bean contributes a delightful vanilla tang to the drink, which helps to bring out the subtle flavors of each ingredient. Mexican vanilla beans are my personal bean of preference for this recipe, as they have a nice spicy yet traditional flavor.
Vanilla Smoothie Recipe
Yields 2 servings
Vanilla Smoothie Ingredients
How to Make a Vanilla Smoothie
Add all of the ingredients into a blender and place the lid tightly on top. Blend on low speed then increase to a higher speed to blend the ingredients completely together. Refrigerate or drink the healthy green smoothie immediately.
Share your thoughts, leave a comment