Posted in Baking Recipes, Fruits, Compotes & Jams by Sarah
Blueberry-Orange Spice Jam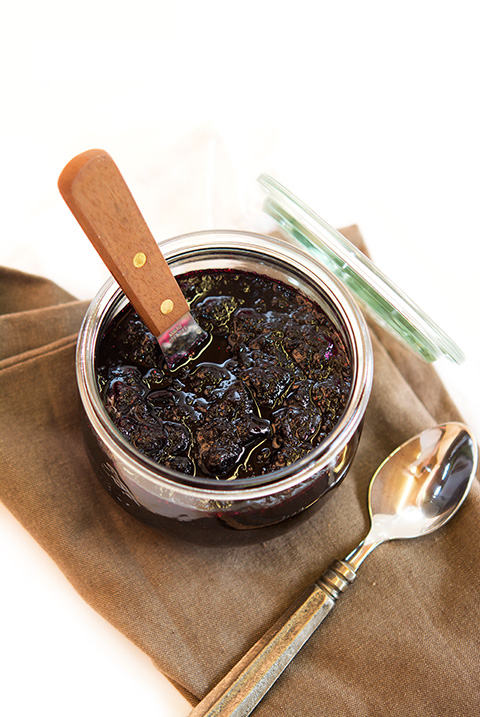 Jam Recipe: Blueberry-Orange Spice
Living in West Michigan provides us with an abundance of fresh fruit mid-summer to fall. Strawberries begin to show up in farm stands and the market late may, then cherries at the end of June, and finally blueberries mid-July.
Due to the long, snowy Michigan winters, we are always excited to be flourished with an abundance of fresh, sun ripened fruit and can buy fresh berries from the farmer's markets by the flat. Once we have made everything from pancakes to cobblers, the remaining fruit seems a bit overwhelming. Fortunately, the blueberries can be frozen to savor them during the particularly long stretch of January to February. The rest can be made into jars of glistening jams and jellies. The flavor combinations are endless and we have the perfect blueberry jam recipe that you'll absolutely love!
In this recipe, the blueberry and orange is spiced up with a bit of cardamom and star anise. This provides a lovely citrus note while adding the smoky notes from the spices.
Star anise is a beautiful spice that, when whole, looks like a three dimensional star. Star anise is the seed pod of an evergreen tree grown in southwestern China and Japan. It is about one inch high with eight segments and a dark brown rust color. Like regular anise, star anise gets its distinctive licorice taste from a chemical compound called anethol. However the two are not related botanically; star anise is a member of the Magnolia family.
Cardamom is a seed that packs a powerful aromatic punch! Both spicy and smoky, a little bit of cardamom goes a long way. It is best to purchase whole pods of cardamom and grind them up before use.
Last, but certainly not least, is our Beanilla Vanilla Bean Paste. This sweet vanilla paste rounds out the flavors of the spices, while providing a buttery vanilla note to the jam. We recommend our Beanilla paste for this recipe, but any of our others will suit just fine.
Blueberry jam is one of the few jams that can thicken without the use of store-bought pectin. The natural pectin in the fruit is very high and with proper preparation will yield a thick, delicious jam.
Enjoy!
Share your thoughts, leave a comment!
← Previous Post
Next Post →