Blueberry-Orange Spice Jam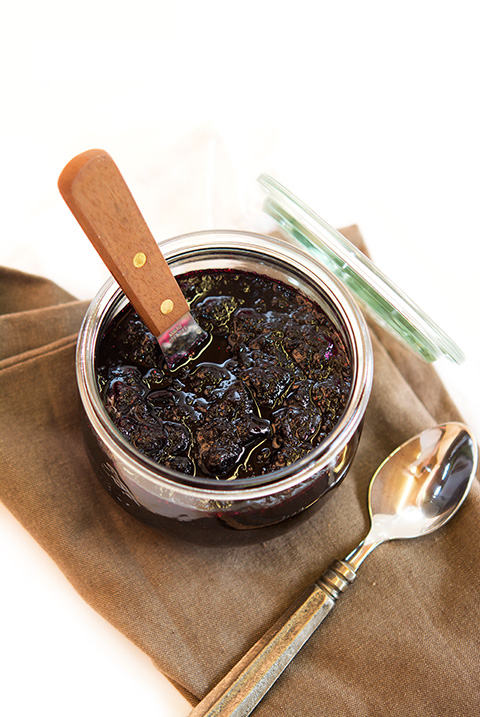 Jam Recipe: Blueberry-Orange Spice
Living in West Michigan provides us with an abundance of fresh fruit mid-summer to fall. Strawberries begin to show up in farm stands and the market late may, then cherries at the end of June, and finally blueberries mid-July.
Due to the long, snowy Michigan winters, we are always excited to be flourished with an abundance of fresh, sun ripened fruit and can buy fresh berries from the farmer's markets by the flat. Once we have made everything from pancakes to cobblers, the remaining fruit seems a bit overwhelming. Fortunately, the blueberries can be frozen to savor them during the particularly long stretch of January to February. The rest can be made into jars of glistening jams and jellies. The flavor combinations are endless and we have the perfect blueberry jam recipe that you'll absolutely love!
In this recipe, the blueberry and orange is spiced up with a bit of cardamom and star anise. This provides a lovely citrus note while adding the smoky notes from the spices.
Star anise is a beautiful spice that, when whole, looks like a three dimensional star. Star anise is the seed pod of an evergreen tree grown in southwestern China and Japan. It is about one inch high with eight segments and a dark brown rust color. Like regular anise, star anise gets its distinctive licorice taste from a chemical compound called anethol. However the two are not related botanically; star anise is a member of the Magnolia family.
Cardamom is a seed that packs a powerful aromatic punch! Both spicy and smoky, a little bit of cardamom goes a long way. It is best to purchase whole pods of cardamom and grind them up before use.
Last, but certainly not least, is our Beanilla Vanilla Bean Paste. This sweet vanilla paste rounds out the flavors of the spices, while providing a buttery vanilla note to the jam. We recommend our Beanilla paste for this recipe, but any of our others will suit just fine.
Blueberry jam is one of the few jams that can thicken without the use of store-bought pectin. The natural pectin in the fruit is very high and with proper preparation will yield a thick, delicious jam.
Enjoy!
Blueberry-Orange Spice Jam
Yields 3 small pint jars
Ingredients:
4 cups

crushed fresh blueberries

1 3/4 cup

Sugar

2 Tbsp.

orange juice

Zest of

1 orange

¼ tsp.

ground cardamom

¼ tsp.

ground star anise

1 tsp.

Beanilla Vanilla Bean Paste
Directions:
Wash jars and bands in hot soapy water, rinse and set aside.
Setup your stove for the hot water bath canning process.
Place washed jars in canner filled with water and boiling slightly. Jars need to boil for 15 minutes to sterilize.
Sort through the berries, removing stems or leaves.
Place berries in a large sauce pot, mash with a potato masher and then place the berries on your stove over medium heat.
Add the sugar, orange juice and zest.
Stir until sugar is dissolved.

Bring heat up to medium and cook the berries.
Halfway through the cooking process add the vanilla, cardamom and star anise.
Continue to stir the berries as they boil, boil for 15 minutes until thickened.
Remove from heat.

Ladle jam into the jars leaving 1/4 inch space.
Wipe the top rim of the jar with a clean damp cloth.
Center a new lid over the jar.
Twist on a jar band and tighten finger tight. Do not force.
Place the closed jars in your canner rack, lower the rack and make sure the jars are covered with about 2 inches of water.

Cover and let process in this water bath for 15 minutes.
Lift rack and secure handles on lip of canner. Let sit for 5 minutes.
Use a jar lifter and remove the jars. Set them on a folded towel.
Do not move or disturb the jars for 24 hours.
After 24 hours, check jars for proper seal. The lid will not pop back if the jar is properly sealed.
Notes:
Any jars that do not seal are still safe to eat but should be refrigerated and used first. Properly sealed jars should be stored in a cool dark place. Sealed jars should be good for a year. Enjoy!
Share your thoughts, leave a comment