Tomato Jalapeño Bacon Jam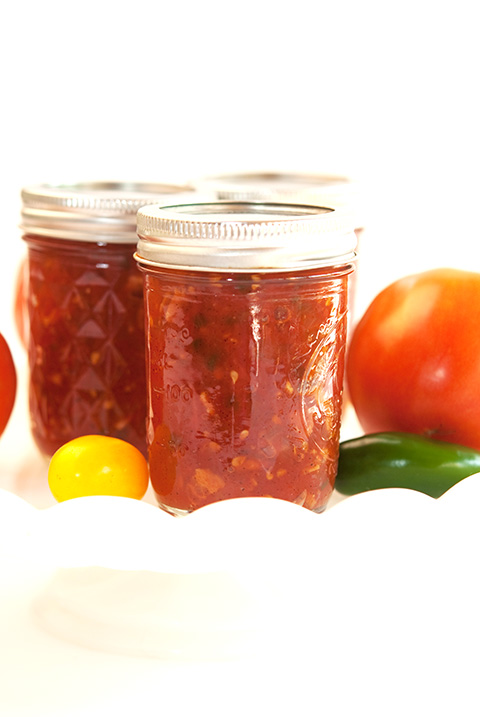 It's canning season;that time of the year when you wonder why in the world you planted that many tomato, jalapeño and squash plants?! After a long and often dreary winter, the anticipation of planting and tending to a large garden full of vibrant fruits and vegetables is extremely enticing to all garden savvy Midwesterners. In our giddiness for warm weather and green growth, we often forget that at the end of a very brief (sadly) warm and sunny summer, we are left with more vegetables than one family of four could ever eat! What do we do? We can! Canning preserves that sun-kissed real vegetable taste that many of us crave in the long winter months. A bright jar of fresh fruits and vegetables that gives us the hope that spring will come once again and endurance to brave the long cold winters.
This week all the tomatoes have to decided to ripe at the same time, canned tomatoes are essential for a taste of summer in sauces and stews but one can only have so many cans of stewed tomatoes. On a recent trip to New Orleans, I brought home some tomato jam. Unsure of what to use it on, I ultimately decided to treat it like a condiment. Spread it on grilled cheese for a twist on an old favorite. Use it in place of ketchup for a gourmet treat, or spoon it on cream cheese and crackers for a delicious party appetizer!
Vanilla beans are often associated with sweets but they also pair nicely in many savory recipes such as the Tomato Jalapeño Bacon Jam below. Tonga vanilla beans have a bold and smoky flavor that pairs perfectly with many savory dishes. The Kingdom of Tonga only produces a limited amount of these beans each year and we are proud to say that we are the only purveyor who currently carries this delicious and unique vanilla bean!
Tomato Jalapeno Bacon Jam
Yields 3 pints
Ingredients:
8 ounces

hardwood smoked bacon

6 ½ cups

tomatoes

½

sweet onion (finely diced)

1 cup

sugar

1

jalapeno (de-seeded and finely diced)

2

tablespoons apple cider vinegar

1

teaspoon salt

½

teaspoon pepper

1

Tonga vanilla bean (split and scraped)
Directions:
Line a plate with paper towels, place strips of bacon on the plate and cover with an additional piece of paper towel. Cook on high for 6-8 minutes until crispy. Chop the bacon into small pieces and set aside.
Roughly chop the tomatoes, finely diced the onion and de-seed and mince the jalapeno. Place tomatoes, onion, sugar, jalapeno, apple cider vinegar and salt/pepper into a medium stock pot. Cook on medium heat until sugar has dissolved and mixture is at a low boil. Add the bacon and Tonga vanilla bean scrapings. Continue to simmer for 1 hour, stirring occasionally.
The mixture will be thick and reduced after one hour. Spoon the jam into sanitized pint jars, place lid on jars and let cool to room temperature. Keep in fridge for 7-10 days.
*This jam is not shelf stable!
Share your thoughts, leave a comment