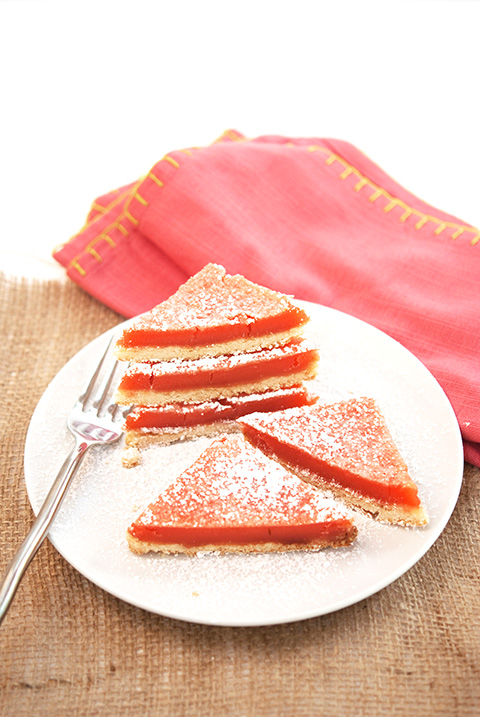 The kids are back to school, the leaves are starting to turn and the Christmas decorations are beginning to show up in the big box stores..... What???? Christmas decorations already?! I don't know about you, but I am not quite ready to let go of the last bit of summer we have left! I stepped outside this morning and was hit with a wall of hot, humid air and thought to myself, "I am oddly okay with this." I know that in a few short weeks we will be bundled up in sweaters and blankets to watch Friday night football games and sipping on hot apple cider. So..... for now I'm savoring the hot sticky weather by making a very summery treat! Lemons are often associated with memories of warm sunny days, the smell of freshly mowed grass and a cold glass of refreshing lemonade savored on a hot sticky day. Throw in a few ripe red raspberries and you have the perfect summertime drink! Raspberry lemonade bars are that cool, refreshing glass of lemonade in a handy and very portable dessert. As many of you have already packed up for a last summer weekend at the beach, or your last weekend up north at the cottage, why not savor the last warm days of summer? I encourage you to make a batch of raspberry lemonade bars to enjoy it just a little bit more. Better yet, serve them with some Vanilla Bean Lemonade to wash 'em down!
No dessert is ever complete without the addition of vanilla beans in some form. The classic Madagascar vanilla bean is the perfect addition to just about any dish! Our Madagascar Bourbon Vanilla Beans come from the Island of Reunion (known as the Island of Bourbon), east of Madagascar. These vanilla beans are very distinct, with a flavor and aroma profile unlike any other vanilla bean. Madagascar vanilla beans are processed using the "Bourbon" curing method. This technique typically produces vanilla beans with higher moisture content. Our gourmet vanilla beans have a moisture content of roughly 33%. You'll notice that there are no breaks or splits within the vanilla beans; another indication of extremely high quality.
Raspberry Lemonade Bars Recipe
Yields 9 squares or 18 triangles
Adapted from- Ina Garten
Ingredients:
Crust:
2 sticks

salted butter room temperature

1/2 cup

sugar

2 cups

flour
Raspberry Lemon Filling:
6

large eggs room temperature

2 ½ cups

granulated sugar

2 tablespoons

grated lemon zest

1 cup freshly squeezed lemon juice

½ cup

pureed raspberries

1

Madagascar vanilla bean split and scraped

2 drops

red food coloring

1 cup

flour

Confectioners' sugar, for dusting the tops of the bar
Directions:
Preheat the oven to 350 degrees F.
Place the butter and sugar in the bowl of a food processor, pulse until combined. Add the flour and pulse until dough begins to form. Dump the dough onto a well-floured board and gather into a ball. Flatten the dough with floured hands and press it into a 9 by 13 by 2-inch baking sheet, building up a 1/2-inch edge on all sides. Chill for 30 minutes.
Bake the crust for 15 to 20 minutes, until very lightly browned. Let cool on a wire rack. Leave the oven on.
Filling:
For the filling, whisk together the eggs, sugar, lemon zest, pureed raspberries, Madagascar vanilla bean scrapings, food coloring and flour. Pour over the crust and bake for 30 to 35 minutes, until the filling is set. Let cool to room temperature.
Cut into squares or triangles and dust with confectioners' sugar.
Share your thoughts, leave a comment