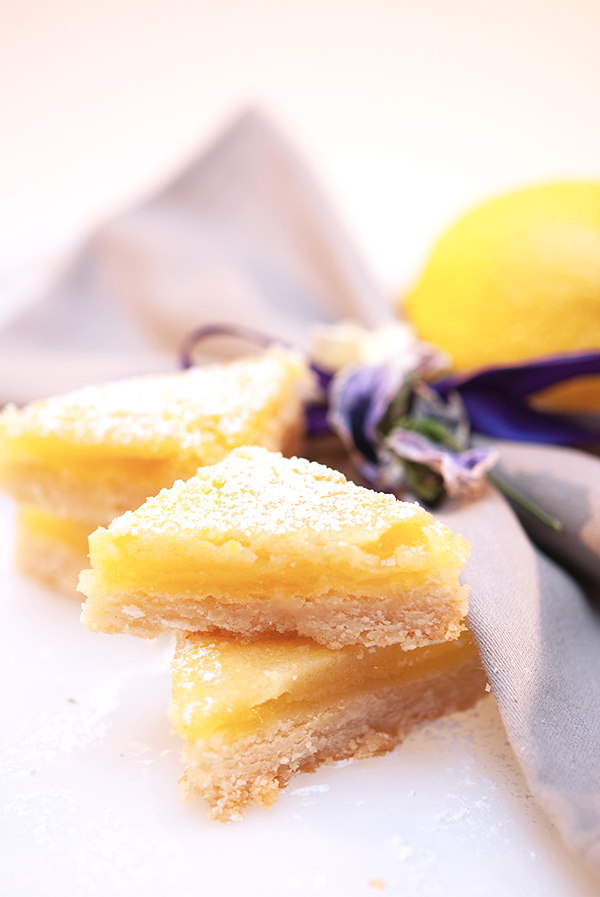 Imagine yourself driving down a curving mountain highway. The scenery is breathtaking, and the road treacherous. As you approach the base of the mountainous highway you look to your right and spy acres and acres of citrus groves. If you are lucky, it is early spring and the trees are blossoming. There is no more heavenly smell than citrus blossoms. You roll down your window, and breathe in the sweet and citrusy aroma of the blossoms. A farm stand approaches in the horizon, which prompts you to stop and procure a bag full of farm grown lemons and oranges.
As you make your way back up the mountain highway, you plan the desserts and drinks that the fruit will produce. Fresh squeezed orange juice smoothies, lemon sorbet or, my personal favorite, lemon bars. Specifically, lemon bars that are not overly sweet, have a crust that is buttery and contain a hint of lavender.
Lemons have a tart floral note that pairs perfectly with the subtle floral aroma of lavender. Lavender extract adds the flavor and scent of lavender without the dried flower look and taste of culinary lavender. It is a great way to introduce your family and friends to a new flavor they may have been hesitant to try.
Lavender Lemon Bars Recipe
Yields 24 triangles
Adapted from Barefoot Contessa
Ingredients:
For the crust:
1/2 pound unsalted butter, at room temperature
1/2 cup granulated sugar
2 cups flour
1/8 teaspoon kosher salt
For the filling:
6 extra-large eggs at room temperature
3 cups granulated sugar
2 tablespoons grated lemon zest (4 to 6 lemons)
1/2 tsp. Lavender extract
1 cup freshly squeezed lemon juice
1 cup flour
Confectioners' sugar, for dusting
Directions:
Preheat the oven to 350 degrees F.
For the crust, cream the butter and sugar until light in the bowl of an electric mixer fitted with the paddle attachment. Combine the flour and salt and, with the mixer on low, add to the butter until just mixed. Dump the dough onto a well-floured board and gather into a ball. Flatten the dough with floured hands and press it into a 9 by 13 by 2-inch baking sheet. Chill.
Bake the crust for 15 to 20 minutes, until very lightly browned. Let cool on a wire rack. Leave the oven on.
For the filling, whisk together the eggs, sugar, lemon zest, lemon juice, lavender extract and flour. Pour over the crust and bake for 30 to 35 minutes, until the filling is set. Let cool to room temperature.
Cut into triangles and dust with confectioners' sugar.
Share your thoughts, leave a comment