Posted in Baking Recipes, Brownies & Bars by Sarah
Lavender Lemon Bars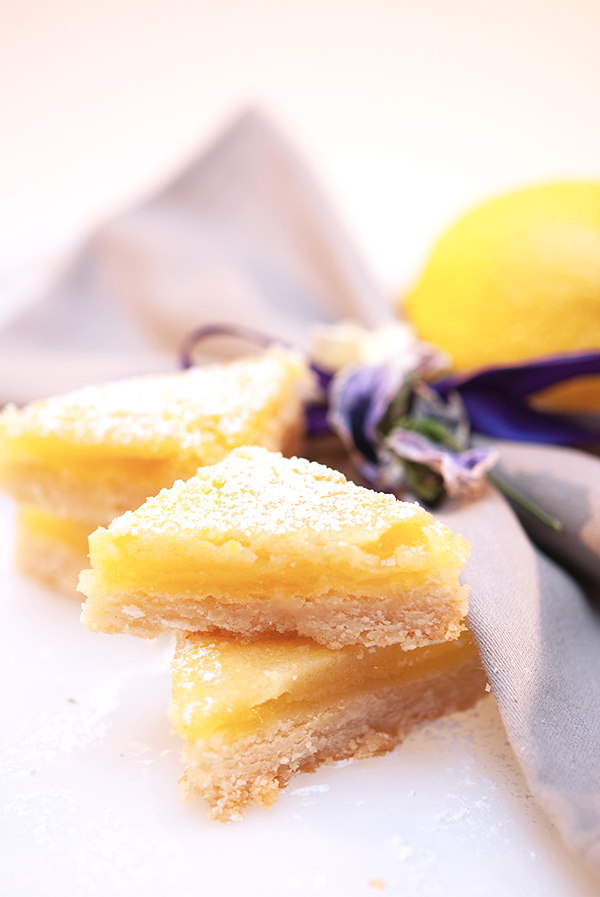 Imagine yourself driving down a curving mountain highway. The scenery is breathtaking, and the road treacherous. As you approach the base of the mountainous highway you look to your right and spy acres and acres of citrus groves. If you are lucky, it is early spring and the trees are blossoming. There is no more heavenly smell than citrus blossoms. You roll down your window, and breathe in the sweet and citrusy aroma of the blossoms. A farm stand approaches in the horizon, which prompts you to stop and procure a bag full of farm grown lemons and oranges.
As you make your way back up the mountain highway, you plan the desserts and drinks that the fruit will produce. Fresh squeezed orange juice smoothies, lemon sorbet or, my personal favorite, lemon bars. Specifically, lemon bars that are not overly sweet, have a crust that is buttery and contain a hint of lavender.
Lemons have a tart floral note that pairs perfectly with the subtle floral aroma of lavender. Lavender extract adds the flavor and scent of lavender without the dried flower look and taste of culinary lavender. It is a great way to introduce your family and friends to a new flavor they may have been hesitant to try.
Share your thoughts, leave a comment!
← Previous Post
Next Post →