Grilled Peaches with Lavender Honey Glaze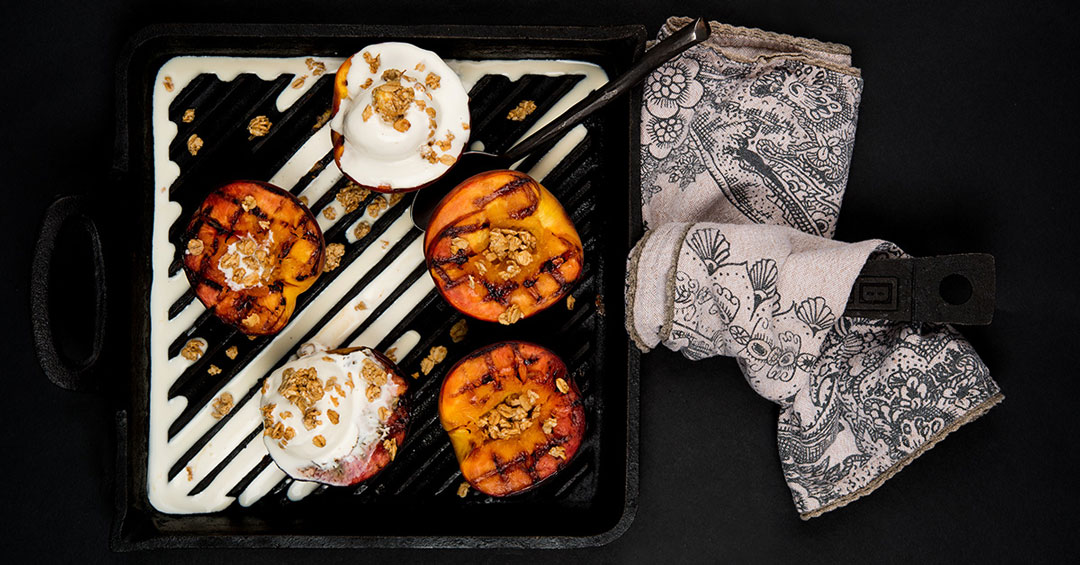 We've already talked about how hot this summer has been, and it doesn't look like things will be cooling down anytime soon. Much as we love spending time in the kitchen baking cookies or other delectable desserts, sometimes the last thing we want to do is turn on the oven and heat up the house. Fortunately, there's a solution that's likely been hanging out in your yard this entire time: the grill. Most people associate grilling with burgers, brats, and other meats, but grills are versatile tools that can be used to cook just about anything, including some sensational sweets. These grilled peaches with lavender honey glaze are the perfect ending to your summer cookout.
Peaches are an ancient fruit, having first been cultivated in China as early as 6000 BC. Since then, they have been enjoyed by nearly every major civilization on Earth. Peaches were first brought to the Americas in the 1500s by Spanish explorers, though they didn't make their way to what is now the United States until a century later, when horticulturist George Minifie brought the fruit over from England to plant on his estate in Virginia. It wasn't until the mid-19th century that peaches were grown commercially in the South, eventually leading to their widespread popularity across the nation.
Warmer states like Georgia and California may lead production in the United States, but peaches are grown in many parts of the country, including right here in Michigan. While our state is most famous for its cherries and berries (which we've written about before), fresh peaches are also plentiful this time of year. Grilling peaches will cause their natural sugars to caramelize on the surface and bring out some subtle flavors that might be missed in their raw form. For an even tastier treat, brush these grilled peaches with our lavender honey glaze, and top with a scoop of your favorite vanilla ice cream.
Grilled Peaches Recipe
Yields 4 servings
Ingredients:
2 pounds fresh peaches
4 Tablespoons Honey Powder
2 Tablespoons water
½ teaspoon Dried Culinary Lavender
Directions:
In a small bowl, combine the honey powder, dried lavender, and water. Whisk well. Set aside and allow the flavors to combine.
Preheat grill to medium. Slice peaches in half and remove the pits. Brush the peaches with the lavender honey glaze and place on grill cut-side down. Grill for 4-5 minutes on each side, brushing with additional glaze halfway through the grilling process. Serve the grilled peaches with a scoop of vanilla ice cream.
Share your thoughts, leave a comment