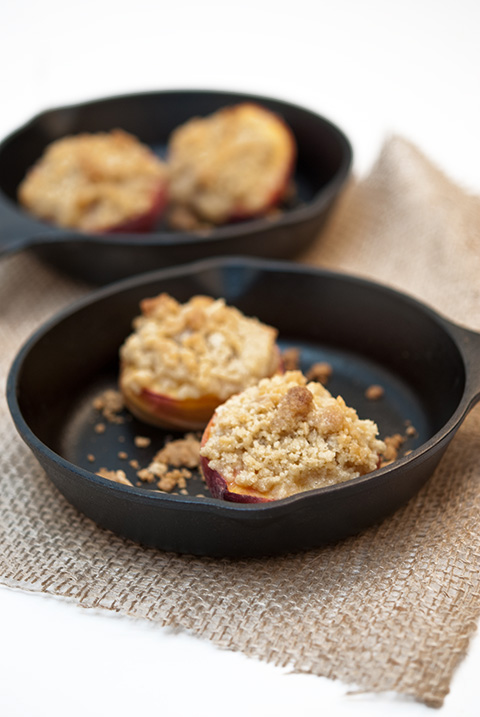 I get so excited this time of year! The trees are blooming, the birds are chirping, the sun is shining and the fruit is starting smell like fruit. If you don't live on the west coast, you know what I'm talking about… There is a time in the dead of winter when you walk into the grocery store and the fruit and produce aisles smell like the floor cleaner they used earlier that morning. The strawberries are still red and ripe, but that intoxicating smell of fresh strawberries doesn't overwhelm you. The raspberries don't smell like raspberries, and if you're lucky enough to find a peach, they smell like the packing material they arrived in. But… this time of year the produce aisles magically transform. The aroma of freshly picked fruit greets you the moment you step in. Finally! Fruit that tastes like fruit, and soon tomatoes that don't taste like cardboard! If you live in the Midwest, celebrate this time (it is fleeting) with a fresh baked peach crumble. Simply slice the deliciously aromatic peach you can now find in the produce aisle and top it with a simple crumble. Bake to enhance the sweetness of the fruit, and store this memory away for next winter.
There is only one thing better than fresh fruit, and it is enhancing the sweet flavor of the fruit with our Mexican vanilla bean.
Our Mexican vanilla beans have a very smooth and creamy flavor profile with a hint of spice. They are very versatile and can be used in many applications, but are most commonly used for making extract. Mexican vanilla has the familiar natural vanilla flavor that we associate with vanilla bean ice cream and other vanilla-flavored desserts. The beans are cured using sun-wilting and oven-wilting procedures. These are remarkable beans, and a popular favorite with Beanilla customers. Rich and smooth with subtle tones of smoke characterize the flavor of these premium Mexican Vanilla Beans. Perfect for many baked goods; try them in creme sauces, ice cream and other fruit-based desserts or recipes.
Baked Peach Crumble
Yields 4 servings
Ingredients:
4 fresh peaches (halved and pit removed)
2/3 cup brown sugar
½ cup all-purpose flour
1 Mexican vanilla bean (split and scraped)
4 tbsp. butter (melted)
Directions:
Place halved and pitted peaches skin side down on a baking sheet or cast iron pan (cast iron will caramelized the peach more).
In a food processor place brown sugar, flour, melted butter and vanilla bean scrapings into the bowl. Pulse until the mixture is crumbly. Place a spoonful of crumble on top of the halved peaches. Bake at 350 degrees for 30 minutes until crumble is lightly browned and the peaches are soft. Serve warm with a scoop of vanilla ice cream and, perhaps, a drizzle of caramel sauce.
Share your thoughts, leave a comment