Posted in Baking Recipes, Mini Desserts, Pastries & Tarts by Sarah
Mini Blueberry Tarts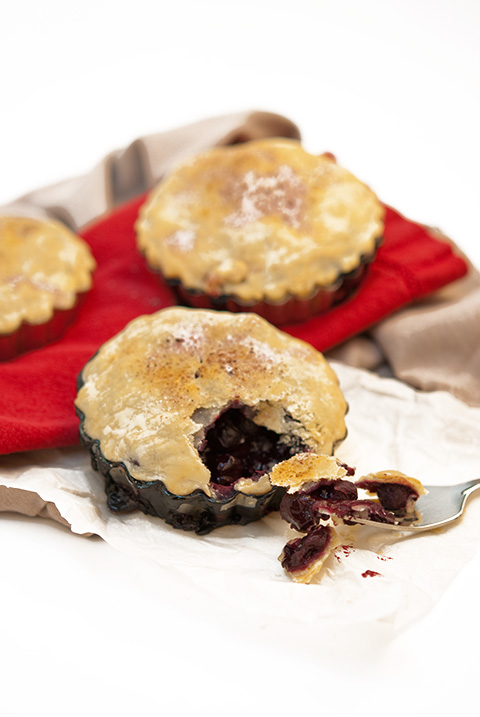 Classic blueberry pie is the quintessential summer dessert, and the perfect addition to any barbecue or backyard picnic that you may have planned this summer. This past weekend was the unofficial kickoff to barbecue season. Many of us celebrated the Memorial holiday weekend grilling out with friends and family, while others brought the RV out of storage or dusted off, and aired out their tents. I have beautiful memories of big family picnics packed up and hauled out to the Holland State Park. We would pick the perfect spot for everyone and set up camp. My grandmother always made her famous potato salad and perfectly cooked pasta salad with huge chunks of cheddar cheese. Aluminum foil would be brought out to line the community grills, and burgers and hotdogs would be cooked to perfection. There was never a lack of desserts -- homemade cookies and pies would magically appear from the picnic basket towards the end of the meal. Completely stuffed and happy to relax on our blankets in the sun, we would watch the boats slowly sail through the channel on their way out to bigger bodies of water. I feel very blessed to have such wonderful Michigan summer memories of my childhood. What is your favorite summer holiday memory?
No pie or dessert is complete without the addition of vanilla. Our Madagascar Vanilla Beans are superior, with flavor and aromatic qualities that make these beans the most popular and sought after vanilla variety. The flavor is a rich, dark and creamy with an overwhelming sweet, buttery aroma. These are well-suited for many baking recipes, drinks and desserts. We know you will agree that our Madagascar Beans are the best vanilla beans in the world!
Share your thoughts, leave a comment!
← Previous Post
Next Post →