Posted in Baking Recipes, Breakfast & Brunch by Sarah
Coconut Blueberry Scones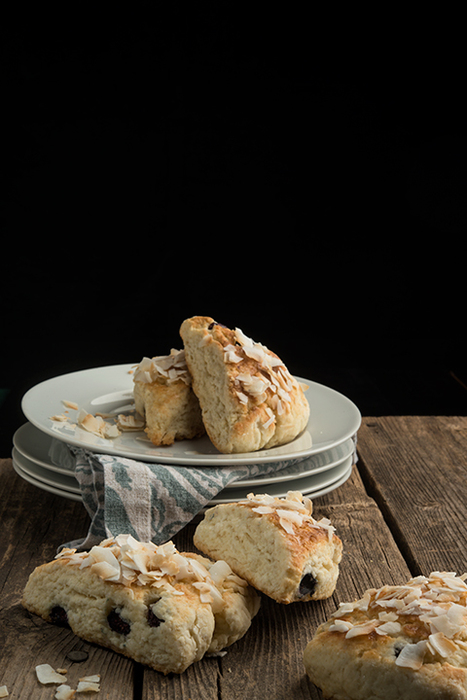 By now many of you know that I am a former professional pastry chef and food/product photographer. Yes, that was a shameless promotion for myself as a photographer! But seriously, I pull a lot of my recipes from experiences, trials, and errors from working in professional kitchens. Over the years, many of my recipes have evolved and grown into popular creations for many professional venues. I am always tweaking, adjusting or adding to my core bank of recipes.
A few years back I worked for a local bakery, developing and testing recipes for their commercial kitchen. Scones were a staple in their bakery but the recipe they had did not hold up for more than 12 hours. The scone was dry, lifeless, and (to be perfectly honest) inedible by the end of the day. Not exactly my idea of a delicious breakfast pastry. I brought in my recipe and added a few ingredients that had been requested; the result was a moist and delicious scone that isn't dry and crumbly by the end of the day. The recipe below is a variation of the scone I created for them, the perfect addition to a piping hot cup of your favorite coffee.
I like a traditional cream scone but what I truly can't resist is a scone filled with blueberries and topped with our absolutely irresistible toasted coconut chips. Seriously, both Garrett (our creative genius responsible for all the catchy product descriptions) and I couldn't get enough of these highly addictive toasted coconut goodness! I typically don't eat the product I use but these I couldn't resist!!!! Irresistibly delicious in our scone recipe but also delicious in trail mix, breakfast granola, or sprinkled on top of cakes and cupcakes.
Share your thoughts, leave a comment!
← Previous Post
Next Post →