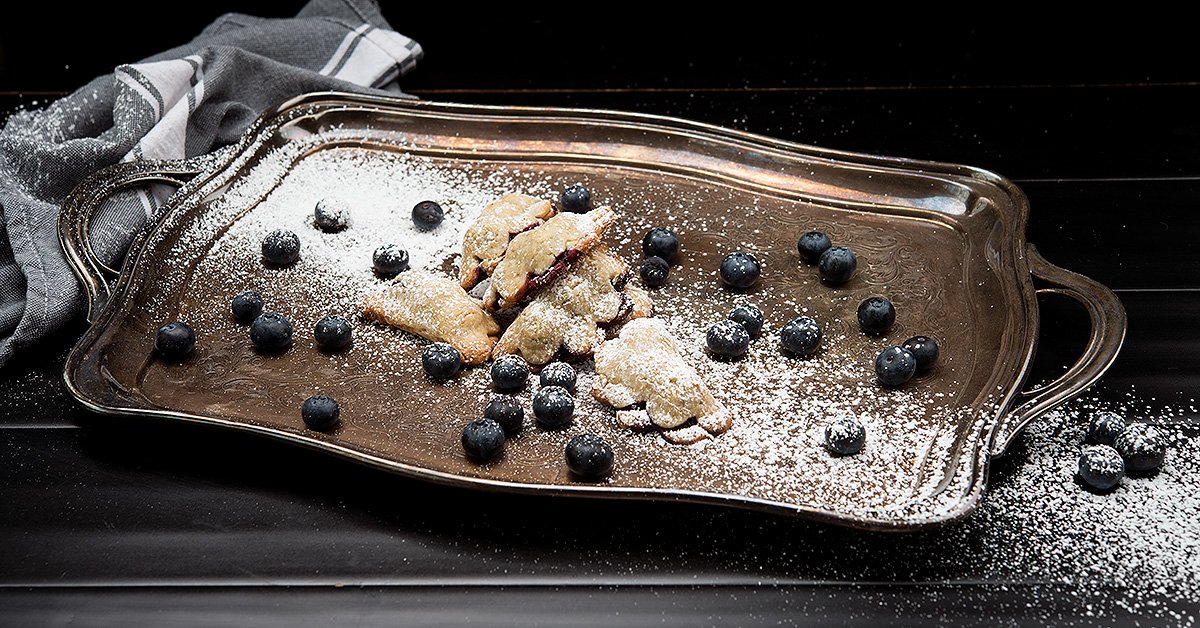 Do you ever wonder how the first pastry was invented? As a chef, sometimes I wonder these things. Especially about the complicated recipes like mini pies. What happened, someone decided they liked the least desirable part of bread and ripest fruits available so much that they wanted to wrap them up together and roast them over flames?
Allegedly, pie has been around since the ancient Egyptians. It is said that pies were originally made simply to store the filling for eating later and not to eat the crust with the filling. Thank god someone made the mistake of taking a bite out of the full pie...
Everybody has memories involving pies, whether it be baking with loved ones for the holidays, buying frozen pies for fundraisers, or grabbing a quick snack at the McDonalds drive-thru (we've all done it). As an adult, however, baking pies becomes less about stuffing our faces later and more about building memories with loved ones in the moment.
As we move into adulthood, our palate and tastes tend to become more refined. The extra additives and preservatives of our once coveted childhood treats begin to show through. We crave simplicity and pure flavors.
Luckily for us, much of America and the rest of the world are returning to the clean eating habits of our ancestors (though luckily not quite as ancestral as the ancient Egyptians). The desire for handmade, simplistic, whole ingredients is prominent in many restaurants and with many consumers.
Hand pies have strong ties to the southern states in America, especially when fried. Home cooks will get together and create large pies for church socials, Sunday suppers, and family dinners… but these creations were not easily transported and usually required a plate and utensils. The hand pie was a portable, easy-to-eat solution to whole pies.
The humble hand pie does not exist primarily as a fruit based pie! Northern Michigan is famous for its savory, meat-based pies adeptly named Pasties. The small pastries are filled with potato and small scraps of meat. These small meals were filling and remained warm for long periods of time, perfect for the blue collar workforce. Ketchup or gravy is a common side to the simple pastry. Where these condiments originated or why I'm not quite sure but each region is very adamant that their choice is the right one.
As blueberries begin to show up in farmers markets and at roadside stands, the desire to bring them into my kitchen and create a few batches of these flaky and sweet dessert becomes too strong to resist!
Blueberry Mini Hand Pies Recipe
Yields 6-8
Blueberry Mini Hand Pies Ingredients
1-9 inch

pie dough round

1/2 cup

vanilla sugar

3 tablespoons

cornstarch

1/2 teaspoon

cinnamon

1 teaspoon

dehydrated lemon

1 tablespoon

fresh lemon juice

2 cups

fresh blueberries

Pinch of

salt

1

egg yolk

Turbinado sugar for garnish
How To Make Blueberry Mini Hand Pies
Chill the pie dough for at least 1 hour before making hand pies.
In a small bowl, whisk together the sugar, cornstarch, cinnamon, and lemon zest. Set aside.
In another bowl, coat the blueberries with lemon juice. Sprinkle on the sugar mixture and stir until blueberries are evenly coated.
Roll out chilled pie dough to 1/8 inch thickness. Cut out circles approximately 5-6 inches in diameter (I used the rim of a 5 1/2 inch diameter round bowl to cut out circles). Fill center of dough circle with blueberry filling. The amount you can fit inside will depend on the size of your blueberries (I was able to fit 2 tablespoons of filling in each hand pie).
In a small bowl, whisk together the egg yolk with two tablespoons water. Brush egg wash on edge of dough circles, fold in half and seal the edges with a fork.
Chill hand pies for at least 1/2 hour before baking.
Preheat oven to 375 degrees F (190 degrees C).
Remove pies from refrigerator and brush with remaining egg wash. Sprinkle on sanding sugar and cut a small slit in the top of each pie to let out steam. Bake for about 20 minutes, or until pies are golden brown and flaky. Cool to room temperature before serving.
Do you have any memories of small pastries or pasties, whether filled with fruit or meat? We would love to hear them!
Share your thoughts, leave a comment