Cinnamon Rolls with Vanilla Buttermilk Glaze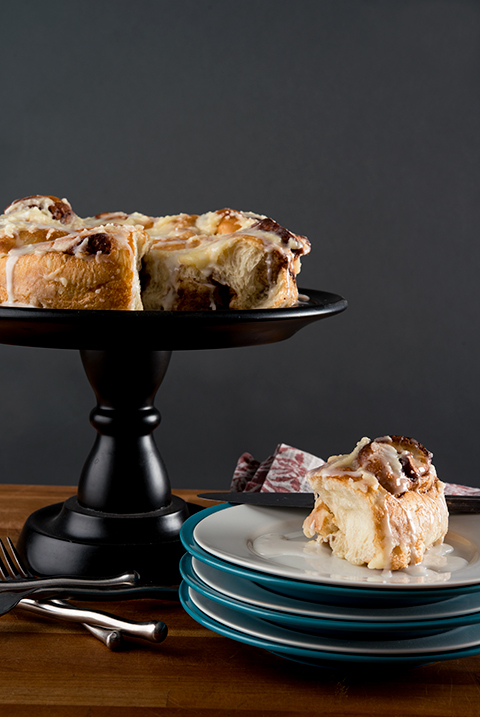 Is there anything better on a cold winter morning than a hot cup of coffee and a nice warm cinnamon roll? Sure, you could head to a coffee shop or bakery, but why would you want to leave the comfort of home when you could make a far tastier pastry in your own kitchen? Our Cinnamon Rolls with Vanilla Buttermilk Glaze recipe is all you need to get your day off to a sweet start.
While the exact origins of cinnamon rolls are a bit unclear, they are believed to have been invented in Sweden during the 1920s. In the decades since, the sweet buns have skyrocketed in popularity worldwide, though nowhere are they more beloved than their native Sweden. October 4th is actually Cinnamon Roll Day in the country, which is no surprise considering that the average Swede eats 316 cinnamon rolls every year.
American cinnamon rolls tend to be sweeter than their Scandinavian counterparts, which often contain cardamom. Swedes also tend to keep the finish fairly simple, topping the buns with a sprinkle of large-crystal pearl sugar. Here in America, we like to load on sweet, gooey icings or glazes. For our recipe, we use a simple glaze made of buttermilk and confectioners' sugar, taken to the next level with the use of real Madagascar vanilla bean scrapings. The resulting rolls are sweet, chewy, and so good you'll want to eat them for breakfast, lunch, and dinner.
Cinnamon Rolls with Vanilla Buttermilk Glaze Recipe
Yields 24 large rolls
Ingredients:
1 cup whole milk
2 envelopes active dry yeast
½ cup Vanilla Bean Sugar
2 sticks (8 oz) unsalted butter, softened
1 teaspoon salt
2 large eggs
4 ¼ cups all-purpose flour, sifted
½ cup Dark Brown Sugar, packed
1 tablespoon plus 1 teaspoon Ground Korintje Cinnamon
1 cup confectioners' sugar
1 Madagascar Bourbon Vanilla Bean, (split and scraped)
2 tablespoons buttermilk
Directions:
In a small microwave-safe bowl, heat the whole milk at high power in 30-second intervals until the temperature reaches 100 degrees. Pour in the yeast and add a pinch of granulated sugar. Stir to combine, then let the mixture stand until the yeast begins to foam and activate, about 5 minutes.
Place 1 stick of softened butter in the bowl of an electric stand mixer. Add the vanilla bean sugar and salt, then beat using the paddle attachment on medium speed until light and fluffy. Add eggs 1 at a time, beating well after each addition. Add 2 cups of the all-purpose flour and beat until well incorporated at low speed. Pour in the milk mixture, using a spatula to scrape in any east that remains in the bowl, then beat to incorporate.
Fit mixer with a dough hook. Slowly add the remaining flour, beating at medium speed until a sticky dough forms (about 5 minutes). Transfer dough into a large, lightly oiled bowl and cover with plastic wrap. Leave the covered dough in a warm place until it rises to twice its size.
Uncover dough, and transfer to a well-floured work surface. Divide the dough into four equal pieces. Take one piece at a time, and roll it into a rectangle approximately 14" x 7" and ¼ inch thick. Wrap the dough around the rolling pin and unroll it onto a sheet of wax paper. Repeat with the remaining pieces dough. Transfer the dough onto two baking sheets and refrigerate until well-chilled but pliable, about an hour.
In a medium bowl, combine the other stick of butter with the brown sugar, Korintje cinnamon, and a pinch of salt.
Evenly spread 1 sheet of dough with ¼ of the cinnamon butter. Trim the edges of the dough to form a neat 12" x 6" rectangle. Starting with a long side, roll the dough tightly. Transfer the rolled dough to the freezer until very cold, about 20 minutes. Repeat with the remaining dough.
Butter a 10-inch spring form pan. Slice the dough into rolls that are about 2 inches thick (you should have about 24). Place the cinnamon rolls in the pan, cut side up. Cover with plastic wrap and let rise until doubled in size, about 2 hours.
Preheat the oven to 350°. Pour the buttermilk into a small bowl. Mix in the confectioners' sugar, vanilla bean scrapings and 1/8 teaspoon of cinnamon.
Uncover the pan and bake until golden brown, about 40 minutes. Let stand for 5 minutes, and then carefully run a knife around the inside edge of the pan. Remove the ring, and transfer cinnamon rolls to a plate. Drizzle with the buttermilk/vanilla glaze and serve.
Share your thoughts, leave a comment