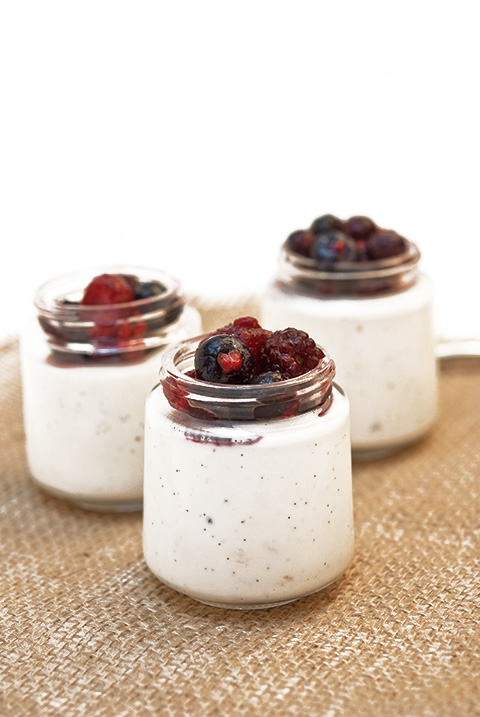 Panna Cotta is a sweet, creamy, and tangy custard-like dessert, minus the eggs! Panna Cotta is a quintessential Northern Italian dessert, perfect for warm summer nights. Panna Cotta can be served with fresh fruit, berry coulis, homemade caramel sauce, or simply drizzled with fresh honey. Tahitian vanilla beans enhance the tangy flavor of the cream and buttermilk while lending a slight floral flavor to the dessert. This is the perfect pannacotta recipe to make ahead and impress your guests!
There are two types of Tahitian vanilla beans, those from Tahiti and those from Papua New Guinea. This is the real deal. Vanilla from Tahiti is incredible, with an aroma that is floral with tones of ripe fruit. The flavor is rich of chocolate, licorice, and caramel. Hands down our favorite! The major differences between Tahiti vanilla and Papua New Guinea (PNG) vanilla is the size. These beans are enormous! These vanilla beans are 2-3 times as plump as other varieties, and therefore contain significantly more caviar inside of the bean. Vanilla from Tahiti is Beanilla's favorite!
Why are these vanilla beans more expensive than other varieties? First and foremost, their size and caviar content mean each Tahitian vanilla bean is about twice the size of other vanilla beans. Vanilla beans from Tahiti are huge!
Second, Tahiti is a fairly developed country, especially compared to other regions that grow vanilla. This equates to significantly higher production costs. The farmers we work with in Tahiti are very proud of their product and simply cannot sell it for what other countries do. Selling vanilla for any less would simply not be sustainable. We are proud to support these farmers.
Buttermilk Panna Cotta
Yields 6 servings
Adapted from Whole Foods
Ingredients:
3 tbsp. cold water
1 ½ tsp. Unflavored gelatin
2 cups heavy cream (divided)
½ cup sugar
1 ½ cups buttermilk
½ Tahitian vanilla bean (split and scraped)
Frozen mixed berries
2 tbsp. sugar
Directions:
Bloom gelatin in 3 tbsp. of cold water. Set aside. Place 1 cup of the heavy cream in a saucepan, add the sugar and Tahitian vanilla bean scrapings, heat until the sugar has dissolved. Remove from heat and whisk in bloomed gelatin until completely incorporated. Whisk together the remaining heavy cream and buttermilk and whisk into the cream/gelatin mixture. Pour into glass containers of your choice. (Please keep in mind that I used 3 ounce containers. If you use a different size this will change your yield.)
Refrigerate the mixture overnight until set.
Combine mixed berries and sugar in a small bowl and spoon on top of the panna cotta. Serve and enjoy!
Share your thoughts, leave a comment