Raspberry Buttermilk Popsicles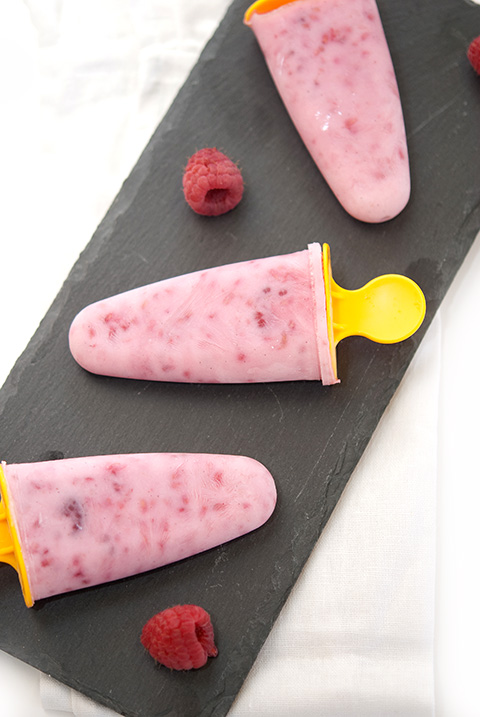 It's summer time, you are playing outside with your friends and you hear the familiar song of the ice cream truck. Instantly, you scatter to your houses asking (pleading with) your mother for money to buy a cold confection. You see him slowly come around the corner, your friends and you wait patiently as he makes his way down the street. Finally, he's here! So many choices plastered on the side of his truck. Do you want the bubble gum foot pop, the red white and blue firecracker pop or maybe the classic nutty cone. You settle on a the patriotic red, white and blue firecracker pop. Twenty minutes later, your face sticky in red and blue food coloring, you continue building your fort or riding bikes with friends. A garden hose at the end of the day turns into a make shift washroom to remove the dirt that has stuck to the red and blue drips on your face and hands.
I rarely see or hear that familiar white truck anymore, but that doesn't mean that you can't enjoy a popsicle every now and then. Raspberries are coming into season and if you love the fruit as much as I do, you know that there is nothing more delicious than a raspberry in season. Buttermilk, vanilla Greek yogurt and almond simple syrup create a simple but absolutely delicious summer time treat, making our creamy popsicle recipe perfect for kids or the kid at heart.
Last month we posted a flavored simple syrup recipe. Now is the time to utilize the almond syrup in this raspberry buttermilk popsicle recipe. Almond extract brings a nice balance to the tart flavor of the raspberries. Our almond extract is rich, buttery and pure.
Raspberry Buttermilk Popsicles
Yields 6 popsicles
3/4 cup

vanilla bean Greek yogurt

1/4 cup

buttermilk

1 cup

fresh raspberries

4 tablespoons

almond simple syrup (see recipe link)

Place fresh raspberries in a small bowl and crush with a fork. Add the buttermilk, vanilla Greek yogurt and almond simple syrup to the bowl. Stir to combine. Pour into popsicle molds and place in the freezer overnight. Run the bottom half of the mold under warm water to release the popsicles from the molds.
Share your thoughts, leave a comment