Posted in Baking Recipes, Breakfast & Brunch by Sarah
Vanilla Bean Chia Oatmeal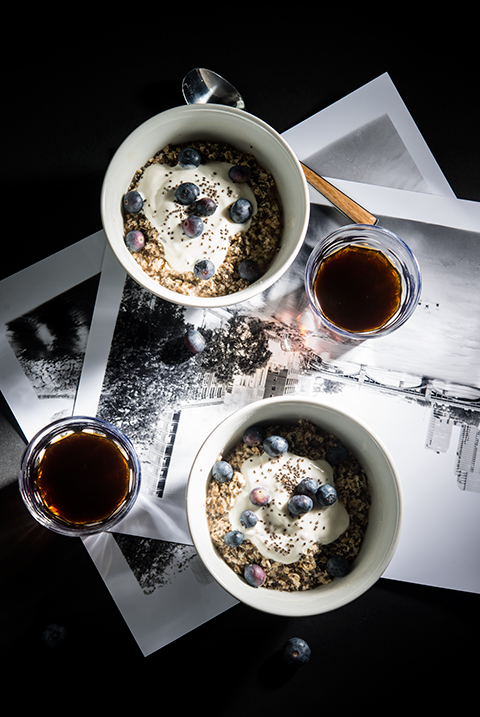 Breakfast is the most important meal of the day. Begin your day with a bowl of hearty and soul satisfying Vanilla Bean Chia Oatmeal. Chia oatmeal can be assembled quickly the evening before and eaten cold or warmed in the morning. Highly portable and infinitely nutritious, you'll wonder why you didn't make this sooner.
Chia seeds are a super food that has a large amount of health benefits. They are high in omega-3 fatty acids and are incredibly high in fiber. Two tablespoons of chia seeds have approximately 1/3 of your daily recommended allowance of fiber. Two tablespoons… can you believe that! Fiber is essential in providing the feeling of satiety or feeling full. Chia seeds added to oatmeal and greek yogurt in the morning can assist in feeling full longer and reduces the consumption of unneeded calories between breakfast and lunch. In addition to feeling full, vanilla chia oatmeal is also delicious. The combination of creamy oatmeal and vanilla greek yogurt, the slight crunch of chia seeds paired with fresh blueberries and fragrant vanilla bean caviar is a perfect way to begin the morning!
Vanilla beans add a distinct flavor and aroma to chia oatmeal. This dish is not inherently sweet, but the addition of vanilla bean scrapings adds the illusion of sweetness. We often associate sweet treats and desserts with vanilla. I have not specified what type of vanilla bean to use in this recipe because any our beautiful vanilla beans can be used.
Share your thoughts, leave a comment!
← Previous Post
Next Post →