Raspberry Vanilla Farro Porridge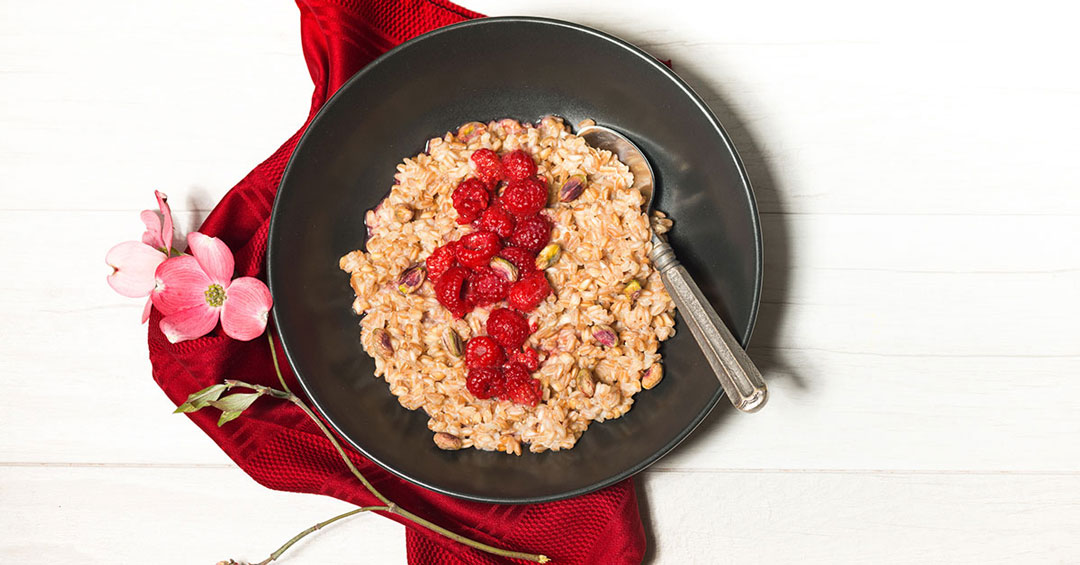 Farro! Though it's often confused with barley, spelt and wheat berries, this ancient grain is decidedly in a league of its own. Farro is incredibly versatile: it is perfectly suited to savory salads filled with feta, cucumbers, olives and light vinaigrette. It can also be cooked to a softer consistency, with sweet vanilla yogurt or heavy cream gently swirled in to create a nutty, pleasantly chewy farro porridge.
Farro is a welcome change from standard oatmeal or porridge. The grain cooks fairly quickly and is nutty with a slight crunch similar to al dente pasta. In addition to being versatile and simple to prepare, farro also has many health benefits. It's low in fat and calories. One serving has only 170 calories and contains 5 grams of fiber and 6 grams of protein (vegetarians rejoice)!
Raspberries, vanilla yogurt and pistachios add texture and crunch to your morning routine, but the real star of this recipe is vanilla sugar. Vanilla sugar is exactly what it sounds like: sugar and sweet vanilla beans rubbed together to form the most fragrant mixture you have ever tasted. You can buy vanilla sugar or, if you are so inclined, you can create your own by scraping vanilla bean caviar from your favorite type of bean and adding it to granulated sugar. Rub the sugar and vanilla beans together gently using your fingers (disposable gloves are recommended) until the vanilla beans are dispersed throughout the sugar. Store in an airtight container and use in your favorite desserts, drinks, or breakfast recipes.
Farro Raspberry Porridge Recipe
Yields 3-4 servings
Ingredients:
2 Tablespoons

butter

1 ½ cups

farro

3 ½ cups

boiling water

1 cup

fresh raspberries

3 Tablespoons

Vanilla Sugar

¾ cup

vanilla Greek yogurt

½ teaspoon

cinnamon

2 Tablespoons

salted pistachios, toasted
Directions:
Add butter and farro to a medium saucepan. Cook until toasted, about 2-3 minutes. Gradually add the water ¾ cup at a time, waiting until it is almost absorbed before making the next addition. After all water is added, turn the heat to low and simmer for 12-14 minutes until the farro is tender. Stir in the cinnamon, yogurt and 1 tablespoon vanilla sugar. Remove from heat.
While the farro is cooking, add the raspberries plus 2 tablespoons vanilla sugar to a small saucepan and cook on medium heat until the raspberries just begin to break down. Remove from heat.
Serve the farro in a bowl, topped with the raspberries and toasted pistachios.
Share your thoughts, leave a comment