Strawberry Vanilla Shortbread Bars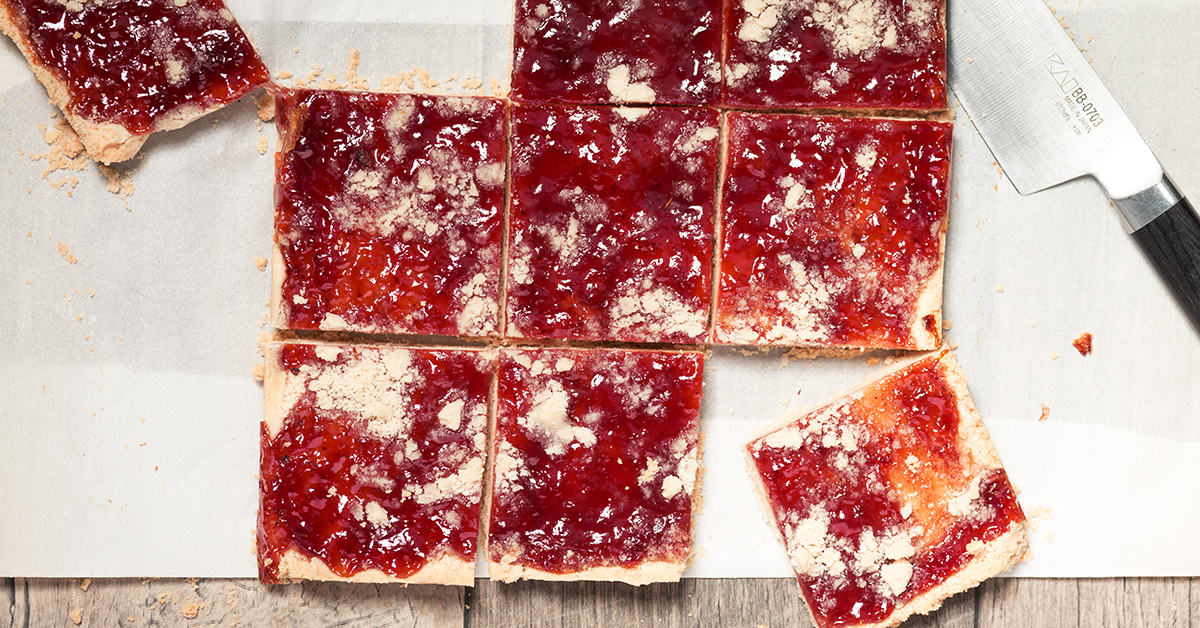 Here in Michigan, aside from some lovely weather, the month of May means it's almost time to head out to the fields or visit the local farm stand and partake of some truly exceptional fruit. Michigan is known for a variety of apples, and its bountiful wild blueberries, but fruit season usually kicks off with the arrival of sweet, succulent strawberries. Sadly, strawberry season always seems far too short, but there are a number of ways you can enjoy your harvest year-round, such as this recipe for shortbread with strawberry preserves
We've already discussed how to make a mouth-watering strawberry vanilla jam in a previous post. This is a great way to preserve your fresh berries so you can enjoy them long after the strawberry season is over. But what to do with those preserves? Sure, you can slather them on some toast and call it good. Or, you could whip up some delicious, super-easy-to-make shortbread and add a whole new crispy, buttery dimension to your day.
Shortbread has a long history. It originated in medieval Scotland as "biscuit bread." Dough that was left over from the breadmaking process would be baked at a low temperature until it hardened. Eventually, bakers began replacing the yeast in the bread with butter, creating a separate product called shortbread. Credit for the perfection of shortbread is often given to Mary, Queen of Scots. The monarch was so fond of the basic biscuit that it's said she had a team of chefs work on the recipe until it was just right. The beloved biscuit has been inextricable from Scottish culture ever since.
Shortbread comes in many different shapes and sizes. Shortbread cookies are often embossed with patterns or cut into festive shapes. We prefer to keep things simple whenever possible, though, and we like to think we're honoring shortbread's humble beginnings while adding some fantastic fruit flavor with these strawberry shortbread bars.
Strawberry-Vanilla Shortbread Bars
Yields 9 bars
Ingredients:
1 ½ cups

all-purpose flour

1/3 cup

sugar

Pinch of

salt

10 tablespoons

unsalted butter, at room temperature

6 tablespoons

Strawberry Vanilla Jam (See previous post)
Directions:
Preheat oven to 375 degrees. Line an 8-inch-square baking dish with aluminum foil, leaving an overhang. Whisk the flour, sugar, and salt in a bowl. Work in the butter with your fingers or a pastry cutter to make the crumbly dough.
Reserve 2 tablespoons of dough, and place in the refrigerator to be used as a topping. Press the remainder of the dough into the baking dish and freeze for 10 minutes.
Bake for 15 minutes. Spread the strawberry jam on top, leaving a 1/2 -inch border; crumble the reserved dough on top. Return to the oven and bake until the edges are golden brown, about 25 minutes. Let cool 20 minutes, then lift out of the pan and cut into squares.
Share your thoughts, leave a comment