Black and White Shortbread Hearts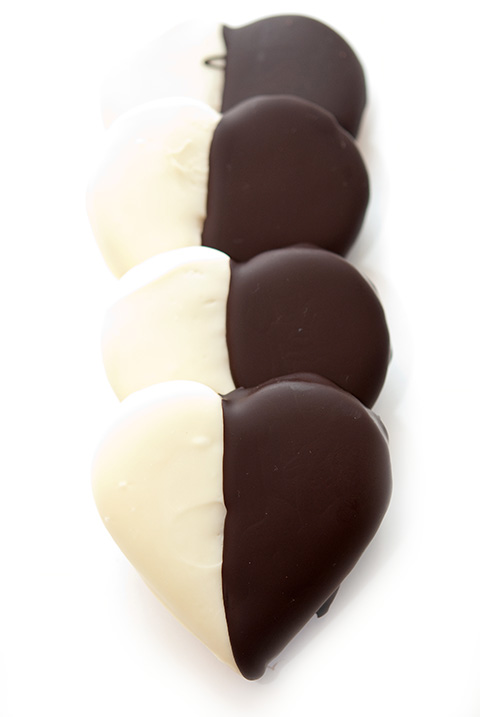 Valentine's day is less than 2 weeks away! Do you have something in mind for that special someone? Or are you the type that waits until the last minute, hoping for that one elusive dinner reservation? Instead of spending a fortune on roses or jewelry, why not make them a special treat? Black and white shortbread hearts are so simple to make and can be arranged in a special box, stuffed with pink tissue paper and tied up with a bright red bow. What valentine could resist such a sweet gesture!?
Black and white shortbread cookies have the familiar buttery texture of a shortbread but have the added snap of a layer of dark and white chocolate. These cookies are addictive and delicious!
Is your valentine a baker or simply loves whipping up sweet treats in the kitchen? Why not add a few Beanilla products to their box of shortbread hearts? We carry a wide assortment of baking products from vanilla beans to natural extracts and flavorings, we even have vanilla salt! Any baking enthusiast would love to receive some of our beautiful vanilla beans as a gift. Not a vanilla enthusiast? Then try one of our many extracts! From strawberry to almond, our extracts and flavorings smell and taste like the real thing.
Happy Valentine's Day!
Black and White Shortbread Hearts
Yields 2 dozen
Ingredients:
COOKIE:
1 cup

butter (softened)

3 oz.

cream cheese (softened)

1 cup

sugar

1 tsp.

Madagascar vanilla extract double-fold

2 egg

yolks

1 tsp.

salt

2 1/2 c.

flour
Directions:
Beat together butter, sugar and cream cheese in mixer until soft and fluffy. Add egg yolks and beat until incorporated. Slowly add salt and flour 1/2 c. at a time until all flour has been incorporated and a dough forms. Cover with plastic wrap and refrigerate 30 minutes. After thirty minutes, split dough in half and place on counter with powdered sugar underneath. Roll to 1/2 inch thickness. Cut out with your favorite cookie cutter.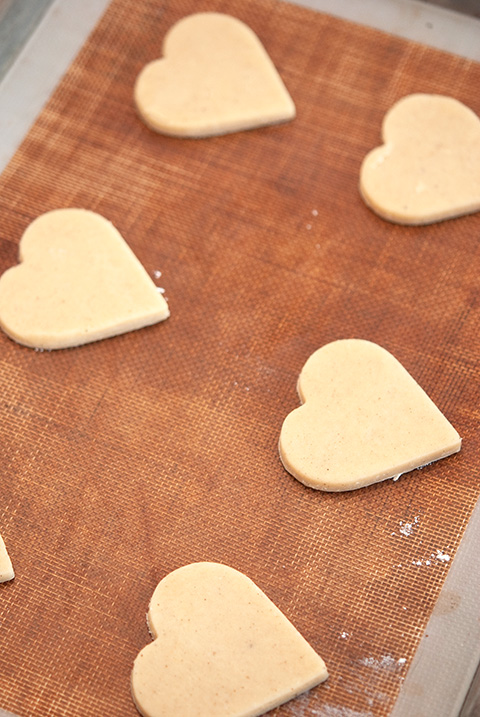 Place on baking sheet with parchment or silpat. Bake at 350 degrees for 10-12 minutes until golden brown on the bottoms. Cool on cooling racks.
Ingredients:
CHOCOLATE
8 ounces

dark chocolate

8 ounces

white chocolate
Directions:
Chop each chocolate and place into two separate bowls. Melt the chocolate in 30 second intervals in the microwave until smooth. Dip one half of the cooled cookie into the white chocolate and then dip the second half of the cookie into dark chocolate. Place on the cooling racks and chill in the fridge until chocolates have hardened.
Give to your favorite loved on or sweetheart!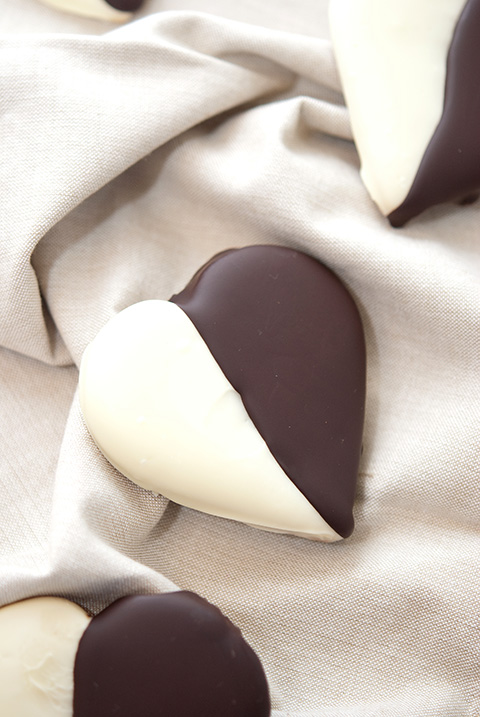 Share your thoughts, leave a comment