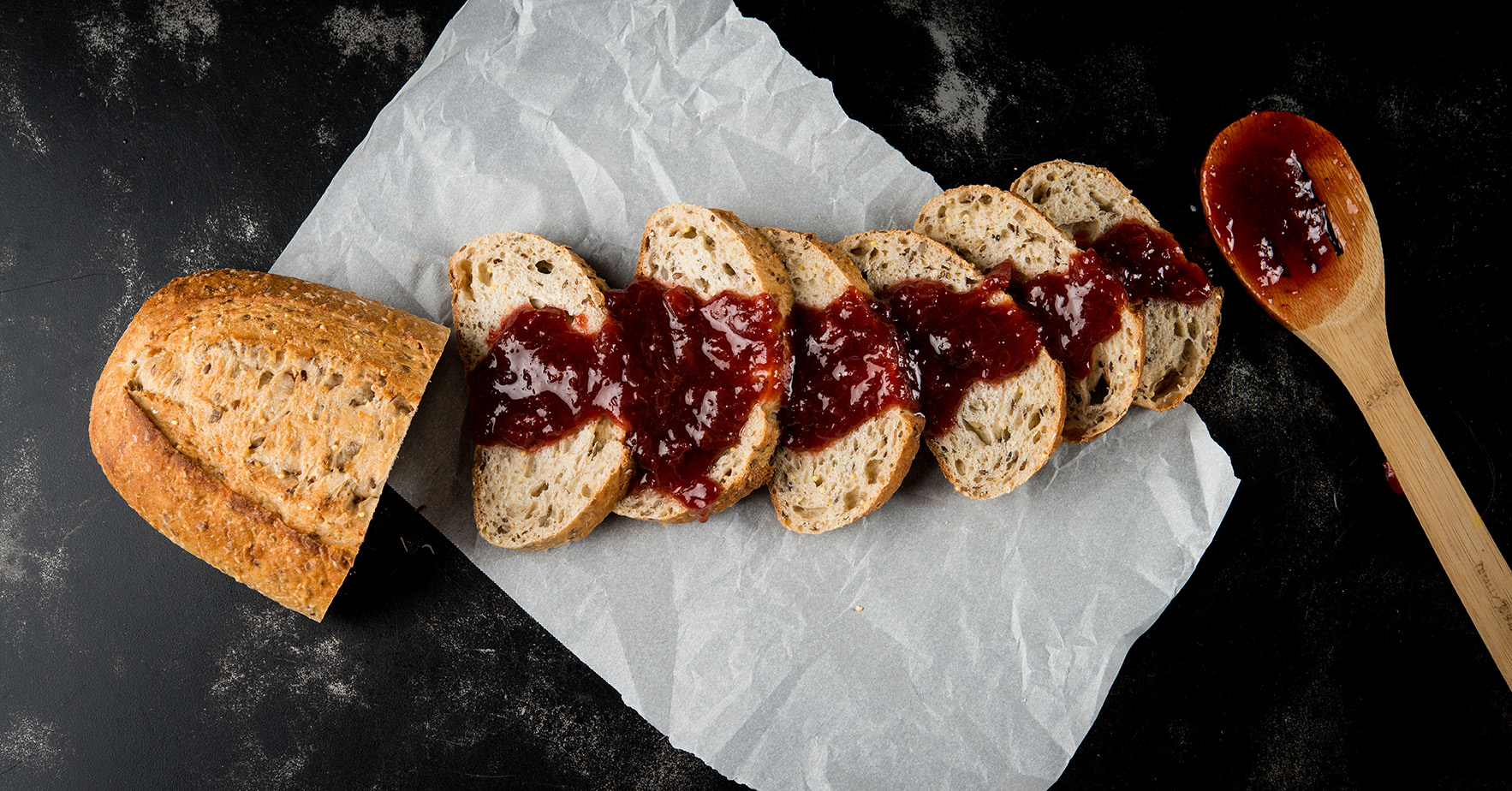 It's mid-April in Michigan, and I have a feeling that yesterday was our last snowfall. *knock on wood* It's blue skies from here on out. Plants are starting to grow and it's finally springtime! Our weather is moving in the direction of cool cozy mornings and warm sunny days. Our lives are about to be filled with fresh fruits and vegetables from our gardens and farmer markets. Sun-ripened beautiful berries, morning-picked greens, and countless varieties of heirloom tomatoes. In the next few weeks, strawberries will begin to show up in our marketplaces. The intoxicating smell of local in-season berries is like nothing else. I can't get enough!
I always end up with an entire flat of these little beauties, eating at least a quart of them before I even arrive home. I wish I could enjoy them every day! … and this is where strawberry jam comes into the picture.
Many jams and jellies require pectin, and although I'm not opposed to using pectin I do like the option of utilizing a more natural thickening agent. Arrowroot powder is the perfect natural choice to thicken any sauce or jam. Arrowroot, or Maranta arundinacea, is a perennial herb most often utilized for its root. The root powder is gluten free, almost completely void of taste, and doesn't cloud the vibrant colors of delicate sauces. The ideal option for strawberry vanilla jam, arrowroot will allow the fresh-picked berries' flavor and brightness to shine through!
Strawberry Vanilla Jam Recipe
Yields 6 pints
Ingredients:
4 cups

fresh strawberries, crushed

2 cups

chopped fresh rhubarb

¼ cup

lemon juice

1 teaspoon

lemon zest

1 Tablespoon

arrowroot powder

1

Madagascar vanilla bean (split and scraped)

5½ cups

superfine sugar
Directions:
In a large sauté pan, combine the strawberries, rhubarb, and lemon juice. Stir in the arrowroot powder. Bring the combination to a full rolling boil, stirring constantly for three minutes. Stir in the sugar and lemon zest, and return to a full rolling boil. Add the vanilla bean scrapings, and stir the boiling jam for one more minute.
Remove from heat and skim off foam. Ladle the hot mixture into six hot sterilized pint-sized glass mason jars, leaving ¼-in. headspace. Remove the air bubbles and adjust the headspace if necessary, by adding more hot mixture. Wipe the rims of the jars. Center the lids on the jars and screw on bands until fingertip tight.
Place the jars into a canner with simmering water. Ensure that they're completely covered with water. Bring to a boil and process for 5 minutes. Remove the jars and let them cool. Make sure that the lids have indented inwards to assure a proper seal and safe storage. Enjoy right away or up to three months refrigerated.
Share your thoughts, leave a comment