Posted in Baking Recipes, Beverages, Drinks & Cocktails by Sarah
Almond-Raspberry Italian and French Soda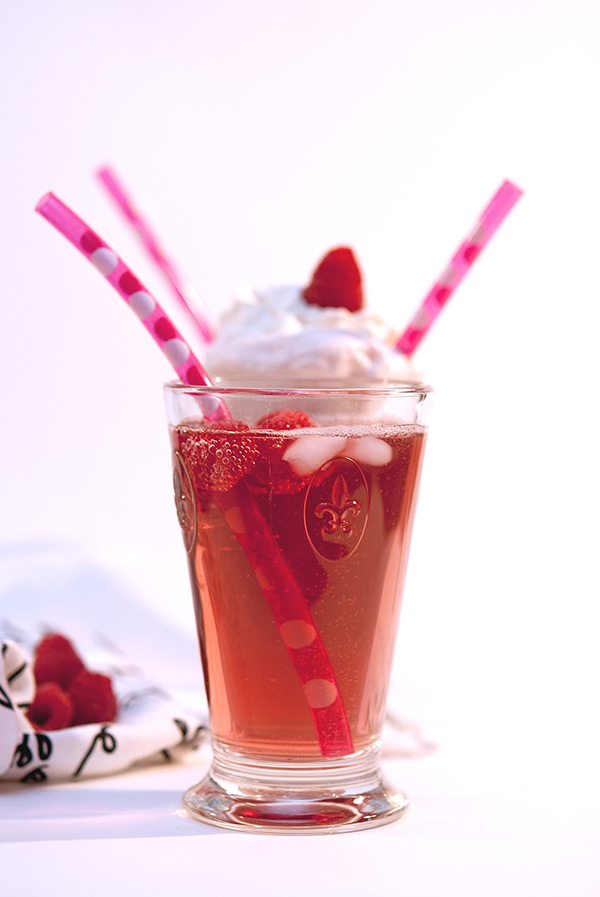 Italian soda is light, crisp and fruity. A refreshing change from sugary sodas, they can be made with all natural products in any flavor you desire. The most popular flavors are fruit-based, but these drinks can be made with botanicals and even savory herbs. I prefer the fruity version, so when I pulled out my Beanilla Raspberry extract I knew that it belonged in a crisp Italian soda.
Did you know that Italian soda did not originate in Italy? According to Wikipedia, "In spite of its name, Italian sodas originated in the United States, not Italy. One claimant to the introduction and increased popularity of Italian sodas is Torani: Rinaldo and Ezilda Torre brought recipes for flavored syrups from Lucca, Italy and in 1925 introduced what become known as an Italian soda to the North Beach neighborhood of San Francisco, California. The Italian American association with Italian sodas has been reinforced by various ready-made brands of Italian sodas, such as the 2005 creation of Romano's Italian Soda Company."
Italian soda combined with Beanilla Raspberry extract is delicious! The raspberry extract smells and tastes identical to the fresh picked raspberries I pick every fall to freeze for the winter. What a treat to have an extract that I can use year-round!
Typically an Italian soda is sweetened with flavored syrups. I know that consumers and I, in general, are trying to limit the amount of chemicals that we consume, so I try to keep all my recipes as pure and natural as possible. Simple syrup is very easy to make and can be flavored with just about anything. I chose almond for mine because I can't imagine anything better than raspberries and almond together.
Share your thoughts, leave a comment!
← Previous Post
Next Post →