Caramel Hot Chocolate with Homemade Caramel Corn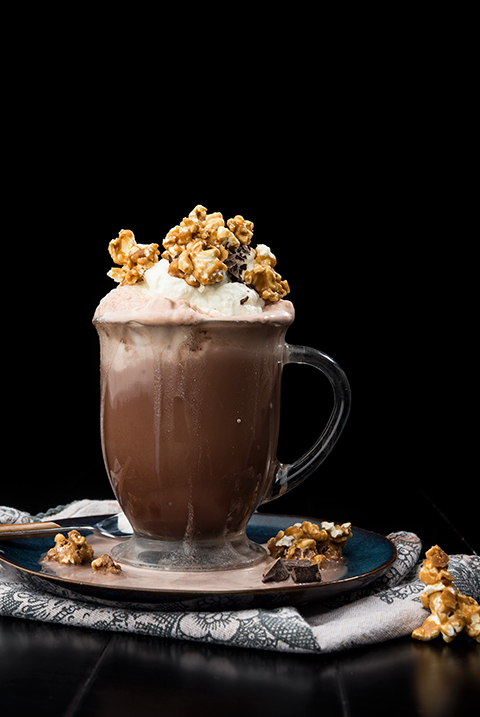 Winter Storm Bella will bring the first, heavy accumulating snow of the season for us here in Michigan and across the Midwest this weekend. Cold temperatures will be setting in with single-digit windchill values.
As we prepare for the winter storm this weekend, many of us will bundle up and hunker down by the fireplace with a cup of hot chocolate. Let's welcome this winter storm with something other than plain hot chocolate to warm us up. How about a caramel hot chocolate with homemade caramel corn instead? Now we're talking!
Caramel hot chocolate is delicious on its own but pair it with a handful of crunchy homemade caramel corn and the decadence level of this dessert explodes! This hot chocolate recipe is also great to serve at any of your holiday celebrations. You can serve the extra caramel corn on the side and watch it disappear quickly!
The trend of sweet and salty began a few years back and those of us in the food industry wondered how long the trend would last. Would it be the next cupcake or cake pop fad? Fortunately I think that the sweet/salty trend is is here to stay. Honestly, who can say that they don't love the combination?
What is the scientific reasoning behind why we crave the combination of sweet and salty? First, let's talk about taste. We have five primary tastes: sweet, salty, sour, bitter, and umami. Umami is a relatively newly discovered taste, and is Japanese for savory or delicious. Contrary to what you probably learned in elementary school, each taste bud can sense all of these. Salt isn't just a nutrient, either. It's a flavor enhancer. So, it stands to reason that if you mix sugar and salt, the salt enhances the sugar flavor. Chefs call this flavor layering, and with the right mix of not too sweet and not too salty will give your brain a positive biological response.
Fascinating! So our taste buds and salt are a big factor in why we crave this combination so much. We hope that you'll enjoy this sweet and salty recipe and be sure to stay warm through Winter Storm Bella!
Share your thoughts, leave a comment