Caramel Hot Chocolate with Homemade Caramel Corn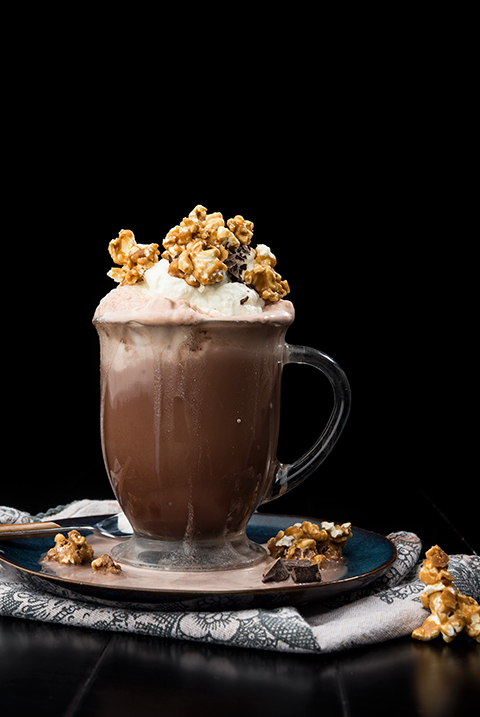 Winter Storm Bella will bring the first, heavy accumulating snow of the season for us here in Michigan and across the Midwest this weekend. Cold temperatures will be setting in with single-digit windchill values.
As we prepare for the winter storm this weekend, many of us will bundle up and hunker down by the fireplace with a cup of hot chocolate. Let's welcome this winter storm with something other than plain hot chocolate to warm us up. How about a caramel hot chocolate with homemade caramel corn instead? Now we're talking!
Caramel hot chocolate is delicious on its own but pair it with a handful of crunchy homemade caramel corn and the decadence level of this dessert explodes! This hot chocolate recipe is also great to serve at any of your holiday celebrations. You can serve the extra caramel corn on the side and watch it disappear quickly!
The trend of sweet and salty began a few years back and those of us in the food industry wondered how long the trend would last. Would it be the next cupcake or cake pop fad? Fortunately I think that the sweet/salty trend is is here to stay. Honestly, who can say that they don't love the combination?
What is the scientific reasoning behind why we crave the combination of sweet and salty? First, let's talk about taste. We have five primary tastes: sweet, salty, sour, bitter, and umami. Umami is a relatively newly discovered taste, and is Japanese for savory or delicious. Contrary to what you probably learned in elementary school, each taste bud can sense all of these. Salt isn't just a nutrient, either. It's a flavor enhancer. So, it stands to reason that if you mix sugar and salt, the salt enhances the sugar flavor. Chefs call this flavor layering, and with the right mix of not too sweet and not too salty will give your brain a positive biological response.
Fascinating! So our taste buds and salt are a big factor in why we crave this combination so much. We hope that you'll enjoy this sweet and salty recipe and be sure to stay warm through Winter Storm Bella!
Caramel Hot Chocolate Recipe
Yields 2 servings
Ingredients:
2 cups

milk

1/4 cup

dark cocoa powder

1/4 cup

superfine sugar

1/4 cup

caramel sauce (homemade or store bought)

1/2 cup

heavy whipping cream

1 teaspoon

superfine sugar
Directions:
In a medium saucepan, heat the milk until hot but not boiling (you'll start to see steam). Whisk in the cocoa, 1/4 cup sugar, and caramel until smooth. Turn off the heat. Pour into two mugs.
In a cold medium bowl, beat the cream until it starts to thicken. Gradually beat in the remaining 1 teaspoon sugar. Beat until stiff peaks form (when you pull the beaters straight up, peaks form without falling over). Pipe on to hot chocolate. Top with homemade caramel corn.
Homemade Caramel Corn Recipe
Yields 7.5 cups (you will have extra leftovers)
Ingredients:
7.5 cups

popped plain popcorn (from about 1/2 cup kernels)

3/4 cup

packed dark brown sugar

6 tablespoons

unsalted butter (3/4 stick), cut into 3 pieces, plus more for coating the pan

1/8 cup plus 1 tablespoon

light corn syrup

1/2 teaspoon

fine sea salt

1/2 teaspoon

vanilla extract

1/4 teaspoon

baking soda
Directions:
Heat the oven to 250°F and arrange a rack in the middle. Coat a large roasting pan with butter and place the popcorn in the pan; set aside.
Place the brown sugar, butter, corn syrup, and salt in a medium heavy-bottomed saucepan over medium heat and bring to a boil, stirring occasionally with a rubber spatula until the sugar has dissolved, about 5 minutes. Continue to boil without stirring for 3 minutes.
Remove from heat, add the vanilla extract and baking soda, and whisk until the caramel is light in color, foamy, and has doubled in volume, about 10 seconds.
Immediately drizzle over the popcorn, stir with a rubber spatula until thoroughly coated, and spread into an even layer.
Bake, stirring every 15 minutes with a rubber spatula and scraping up any caramel from the bottom of the pan, until a cooled piece of popcorn is very crunchy, about 45 minutes to 1 hour total. (To test for doneness, take a few pieces of popcorn out of the oven and let cool for 30 seconds. If they're crunchy, then the caramel corn is done.)
Transfer the caramel corn to a work surface or rimmed baking sheet to cool completely (it will crisp as it cools). Store in an airtight container at room temperature for up to 1 week.
Share your thoughts, leave a comment