Posted in Baking Recipes, Chocolate, Brownies & Bars by Sarah
Chocolate Caramel Bars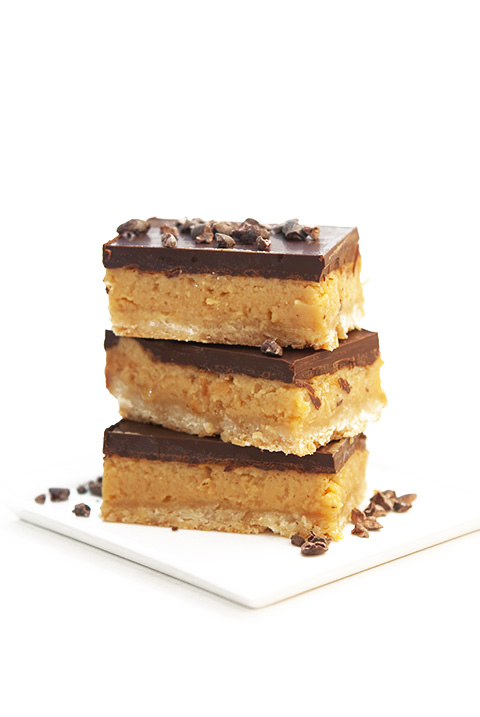 I visit the Beanilla distribution warehouse from time to time to discuss posts, pick up product and just to say hello to fellow employees. The moment you step into the building the intoxicating aroma of vanilla hits you. It is absolutely delicious!  During a recent visit I asked my fellow teammates if they had any requests for posts. Natalie, our warehouse manager, was more than eager to provide me with suggestions. One of the most delicious and trendy requests was for a caramel bar. Smooth and creamy homemade caramel sits on top a layer of salty and crunchy coconut base, and the entire bar is then slathered with delicious high quality dark chocolate. These bars are rich, decadent and highly addictive. I hope you enjoy them, Natalie!
I served these delicious bars at a party we hosted at our home and they were a huge hit. One of my neighbors even quietly took me aside and asked if I could wrap one up for her to bring home.  Before she left for the evening she asked me what made them so delicious, and I answered her, simply, with Beanilla Tahitian Vanilla beans.
Our vanilla beans are the best of the best, high quality, plump and never dried out. Tahitian vanilla beans are 2-3 times as plump as other varieties and therefore contain significantly more caviar inside of the bean. Vanilla from Tahiti is Beanilla's favorite!
Share your thoughts, leave a comment!
← Previous Post
Next Post →