Posted in Baking Recipes, Beverages, Drinks & Cocktails by Sarah
Pistachio Iced Mocha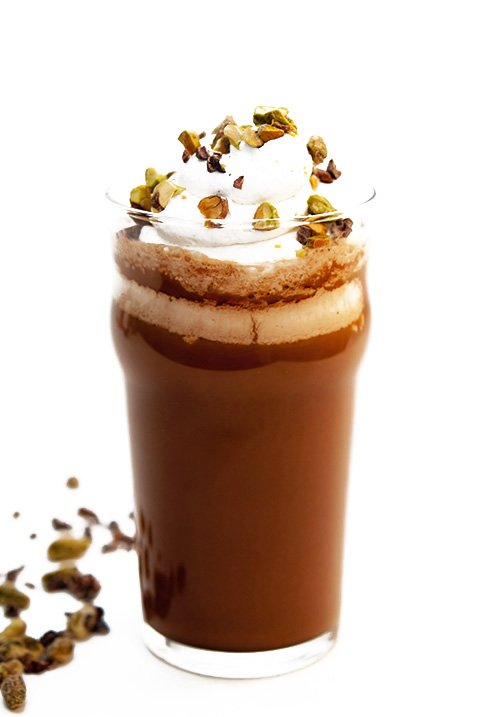 There are moments in our lives that are defined by the food that we share. It may be a special occasion, helping a relative create their signature dish, or a favorite restaurant.
As a chef, most of my life has been defined by food; cuisines that are unique to the regions that we have resided in, and the friendships we have formed. The Midwest evokes memories of barbecues and Sunday dinners with beloved friends. The Pacific Northwest brings back memories of Thai cuisine at Thanksgiving, lovingly crafted by our friend's elderly mother. A picnic lunch of fresh raspberries and French cheese/baguette spread out on a park bench in Paris, or a favorite breakfast with a close friend in sunny San Diego are also memories that I have.
Two weeks before we were scheduled to leave Southern California, my husband surprised me by flying out two of my closest friends for a girls' weekend. It was an amazing gift that allowed me to introduce them to one of my favorite breakfast spots in San Diego. Gigantic platters of sage fried chicken breasts on a bed of garlic mashed potatoes topped with fresh spinach, griddled cheese and an absolutely to die for chipotle cream sauce. A dish that is perfectly complimented by a huge glass of pistachio iced mocha with mounds of fresh whipped cream. Ahhhhh, food memories......
Beanilla now carries Natural Pistachio Flavor, the perfect excuse to recreate a delicious food memory. Add depth of flavor to iced mocha and a variety of desserts with the nutty, yet delicate, addition of our Natural Pistachio Flavor. Buttery and smooth, Natural Pistachio Flavor pairs well with almond, cherry, vanilla, chocolate, as well as a wide array of mouth watering ingredients. Enliven everyday recipes with just a pour.
What's your favorite food memory?
Share your thoughts, leave a comment!
← Previous Post
Next Post →