Oatmeal Raisin Bran Muffins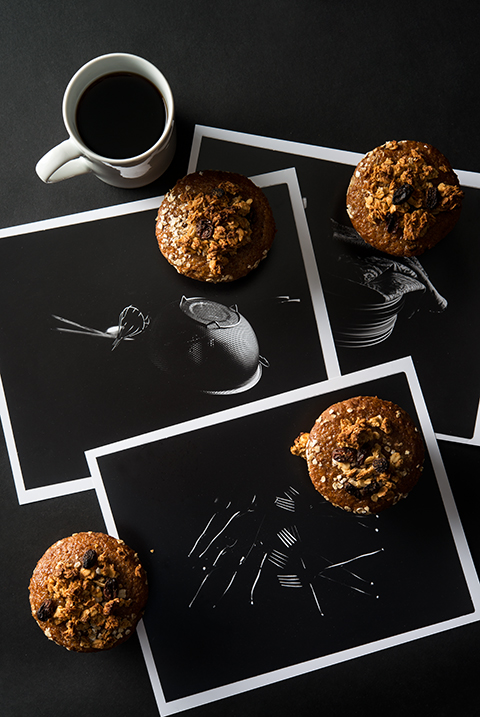 Breakfast is my favorite meal of the day. I look forward to it before I fall asleep at night. It makes an incredible difference falling asleep if I know that I'll wake up with a healthy breakfast already prepared. It's like having your outfit already picked and laid out for the day. An ease in my life. Now I love a good elaborate breakfast with a multifaceted array of different flavors - savory and sweet all together on the same plate. Bacon happily sitting next to eggs, lavish fluffy pancakes, savory hash browns in a pile next to fresh fruit, and maple syrup on top of it all. That's what the weekends are for - being able to sit down with a mug of coffee and enjoy a leisurely breakfast with our loved ones. I don't know about you, but my weekdays are packed with obligations - children, spouse, work, friends, and other haphazard activities. Weekdays are just not the time for an extravagant breakfast.
Muffins are the perfect pick me up for hectic weekday mornings. Portable, delicious, and incredibly easy to pack full of healthy grains and dried fruits. The muffin began its humble life in the early 18th century. European bakers needed a way to sell their wares on the street in a portable and freshly baked form. The muffin was a relatively new concoction at the time and had just been released as a quick and easy sweet breakfast cake for the working middle class. The small cake gained popularity and soon was a staple in many bakeshops and with the common home baker. Today, you can find muffins in grocery stores, coffee shops, and even gas stations. The appeal of the portable sweet breakfast treat has not diminished.
Store bought muffins are often huge, diabetes-inducing, and chocked full of preservatives. This homemade recipe contains whole-wheat and low-fat ingredients - reducing calorie count and providing a source of healthy grains and fiber. Vanilla extract of course is essential in any delicious baked good. I recommend Mexican vanilla extract because it's sweet and spicy, forming a prized alliance with the brown sugar and molasses.
Oatmeal Raisin Bran Muffins
Yields 10-12 muffins
Oatmeal Raisin Topping Ingredients
3 cups

rolled oats (not instant)

3 Tablespoons

packed light brown sugar

½ teaspoon

ground cinnamon

¼ teaspoon

kosher salt

⅓ cup

honey

¼ cup

butter (melted)

¼ cup

raisins

1 teaspoon

Mexican vanilla extract
Oatmeal Raisin Topping Directions
Place all ingredients into a medium-mixing bowl. Mix to thoroughly combine and set aside.
Bran Muffin Base Ingredients
2

eggs

1 cup

 2% milk

½ cup

 canola oil

¼ cup

 molasses

¾ cup

packed brown sugar

1 teaspoon

 Mexican vanilla extract

1½ cups

wheat bran

¾ cup

 all-purpose flour

¾ cup

whole-wheat flour

2 teaspoons

 baking powder

¾ teaspoon

 salt

½ teaspoon

 baking soda

1 cup

 raisins
Bran Muffin Base Directions
Preheat oven to 400°F; prepare muffin pans by lining cups with paper muffin liners.
In a large bowl, beat together the eggs, milk, oil, molasses, sugar and vanilla.
Stir in the bran, and let stand for 5 minutes.
In a small mixing bowl, combine the flour, baking powder, salt and baking soda. Add this to the egg mixture, and stir until combined. Stir in the raisins.
Spoon into the paper-lined muffin cups, filling each to the top. Sprinkle generously with the granola topping.
Bake for approximately 20 minutes, or until muffins are firm to the touch. Don't over bake them or they'll turn out dry and tough - a sad lesson I once learned. They should turn out nectarous, and they will make your house smell amazing. Enjoy!
Share your thoughts, leave a comment