Posted in Cupcakes, Mini Desserts by Sarah
Baklava Cupcakes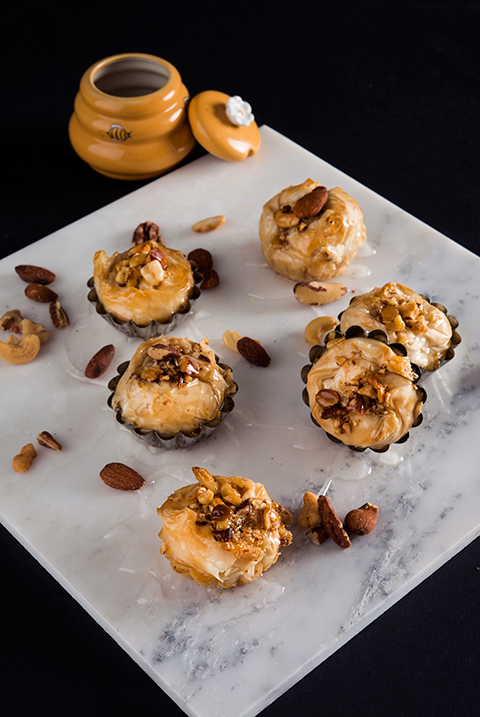 Did you grow up with a recipe that didn't seem to fit into your family heritage, or the culture or region you resided in? You love it of course because you grew up loving it, but it's unclear how and why it was always available in your home. Baklava is one of those quizzical foods for me. The treat was always at holiday celebrations, birthdays, and occasionally would even show up in our lunch boxes.
Classic baklava is deep rooted in Greece, Turkey, and surrounding Mediterranean countries. A dessert once reserved for royalty and the wealthy; the high cost of nuts and honey limited the simple luxurious treat to only those who could afford it. Today, these sweet honey-glazed pleasures are available at most Mediterranean restaurants.
Baklava is made using large sheets of layered filo dough, either pistachios or walnuts, and sticky honey syrup. It's baked until golden brown, then scored into squares and finally again into triangles while still hot. Simple and brilliant. In this recipe, I veered slightly from this traditional triangular baklava procedure and instead decided to create baklava cupcakes! Indian vanilla beans are the perfect bean to use in this recipe, as they are very sweet, bold, and creamy.
Share your thoughts, leave a comment!
← Previous Post
Next Post →