Chocolate Almond Cupcakes
Hello! Welcome to the Beanilla Trading Blog. My name is Chef Sarah and I will be your photographer, author and chef. It is with great pleasure that I get to introduce you to myself and the Beanilla product line.
I am a business major turned professional chef. My culinary career started approximately four years ago after a few years of staying home with my children. Even though motherhood is very rewarding, I would not trade it for the world. I felt the need to expand my career options and go back to culinary school. I know you are asking "why culinary school?", well good question! After many successful parties and dinners with friends and colleagues, I felt brave enough to attempt a career as a chef. What I learned along the way was that cooking was not a chore, it was a passion. I still feel that way today. Each and every day I feel so blessed to be able to do what I love and really enjoy every moment.
Upon graduating from culinary school, my family and I moved to the beautiful city of San Diego, CA. I started my career as a personal chef, then a private chef for a non-profit and most recently as an executive pastry chef. As we get know one another better, you'll notice that my savory and pastry recipes are simple, fresh and influenced by the west coast culinary experiences that I have acquired along the way. I am completely thrilled to be a part of the Beanilla team and I look forward to getting to know the Beanilla consumer. I love the quality products that Beanilla produces and endorse them as a chef and consumer; I would even recommend them to my mother!
Who doesn't love chocolate? I have met very few people in my career that don't. The chocolate desserts are the first ones to leave the table and rarely will you find any morsels left over. The only thing better than chocolate (in my opinion) is chocolate and almond, so when I received a bottle of almond flavoring from Beanilla Trading Company, I knew exactly the recipe I wanted to share! Chocolate Almond Cupcake with Almond Buttercream Frosting, rich dark chocolate accented by the sweet almond flavor of Beanilla almond flavoring.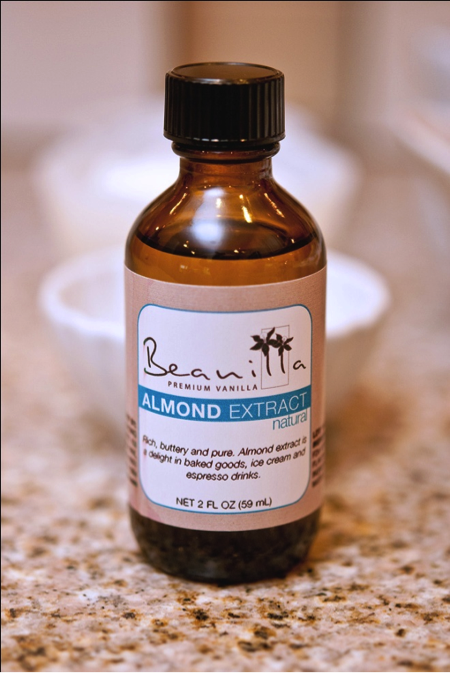 Almond Extract
Share your thoughts, leave a comment