Vanilla-Orange Pineapple Banana Juice Pops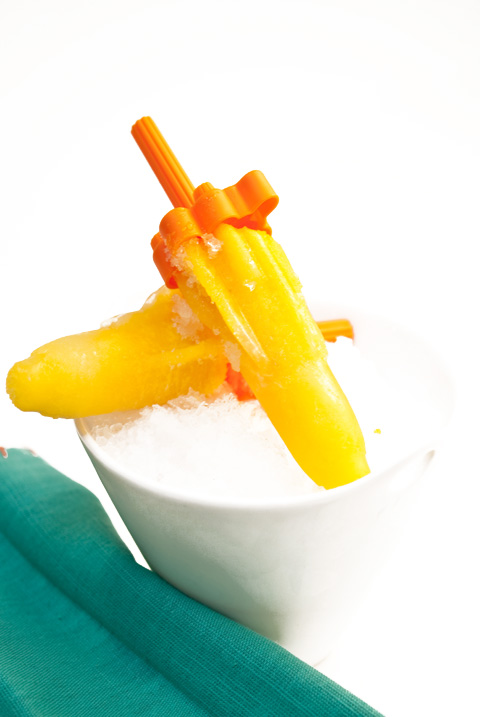 It's been over a month since we began our journey to a healthier and happier family. Overall the progress has been good. My husband participated in the 36th Annual Fifth Third River Bank Run a couple of weekends ago! I have been working out and walk/running with our adorable border collie on a fairly consistent basis, though I have been finding it hard to make the "time" lately. Occasionally our son, and more frequently our daughter, has been joining me, which has made it more pleasant and much easier to get out there and do it (those of you who have teenagers know that any one-on-one time is precious and rare).
We have been working very hard towards healthier eating habits together as a family. French fries have been traded for fresh fruit, red meat has been substituted for fresh fish and seafood and sweets rarely make an appearance anymore. The sweets have been the hardest. I work almost daily photographing and writing about them for a living. I have learned to scale down the recipes and only make what I need for a web post or to photograph (although, there have been a few that I simply could not resist!).
One of the healthiest and most interactive tools we have acquired is a juicer. The ability to make fresh juice and personalize it to our families taste buds has really been fun.  Most recently, we took a delicious combination of fresh pineapple, oranges, bananas and vanilla then turned it into popsicles. These have proven to be a simple, healthy and fun way for the kids to start off the morning.
To enhance the flavor of the popsicle I chose to add an interesting ingredient, Organic vanilla bean powder. Our organic vanilla powder is a dark cream in color. The darker the vanilla powder, the more pure it is. Vanilla powders that are light in color contain very little vanilla extractives, and are often substituted with other flavor ingredients. This powder is excellent with cereals, teas, berries, French toast, and a wide variety of baking recipes. Blend this powder into a latte, coffee, or hot cocoa for a wonderful flavor and vanilla aroma. I incorporated the powder into the recipe to enhance the flavor of the fruit, but not take away from the look of the popsicle as a finished product as a vanilla bean caviar would.
Vanilla-Orange Pineapple Banana Juice Pops
Yields 4
Ingredients:
2 oranges
1 cup pineapple
1 whole banana
1/2 tsp. Organic vanilla bean powder
Remove peel from oranges, prepare and dice pineapple into medium sized chunks, peel and cut banana in half.  Prepare juicer; slowly add oranges, pineapple and banana to the juicer. Remove the extracted juice, whisk in the Organic vanilla bean powder and pour into 4 popsicle molds or 4 small paper cups. Add lid or wooden popsicle stick to the center of the mold or cup. Freeze overnight.
* To release popsicle from mold or cup, simply run under hot water for a few seconds. Popsicle will slide out easily!
Share your thoughts, leave a comment